E-commerce Operations | SOPs for Ecommerce | Ecommerce Standard Operating Procedures
The growth of e-commerce has been unprecedented, to say the least. The way it has caught on and has found universal acceptance is without any parallel in recent history. That said, for a business to succeed as an e-commerce brand, the customer who is the cornerstone of the business must be offered an unmatched customer experience. Else, they would switch to the next best alternative at the click of a mouse, loyalties change very quickly in the online space.
This makes it rather important that an e-commerce brand remains focused on providing a consistent customer experience. One of the practical ways of doing it is through Standard Operating Procedures (SOPs). By implementing SOPs for e-commerce business, a brand can ensure that processes and systems are standardized to offer a consistent experience that not only helps long term sustenance but equally enhances the company's reputation for being a reliable brand. The write-up seeks to inform readers on areas where SOPs (i.e. e-commerce business blueprint) can be defined and implemented, here it is:
Ecommerce Order Management & Fulfillment:
If it is a growing e-commerce brand, it is not easy to manage the quantum of orders received on a daily basis. It would be extremely prudent on the part of the e-commerce brand to have an ecommerce order management system architecture. A standardized set of procedures in the form of SOPs that would streamline the process of order management & e-commerce order fulfillment. Else, there is a good chance of getting a lot of complaints from dissatisfied customers during the last-mile delivery and after-sales. These two phases happen to be critical for an e-commerce business where enough standardization with an order management software for ecommerce (also called: OMS Ecommerce) would make a great difference.
Ecommerce Inventory Management:
This is one of those things in an e-commerce business ecosystem if not handled properly can have great repercussions. Overstocking and understocking (out-of-stock scenarios) are real possibilities with improper e-commerce inventory management processes. By implementing SOPs aligned with an ecommerce inventory management software and/or ecommerce warehouse management system, the business will have better inventory control and have the right number of SKUs according to the existing demand. The ecommerce operations SOPs would establish the necessary processes for inventory monitoring at regular intervals to ensure there is no overstocking nor understocking. A multi-channel inventory management for ecommerce business can help with amazon inventory management, inventory at other marketplaces and your website, wherein all SKUs are synced together and available for all channels of sales.
Ecommerce Customer Service:
Today, e-commerce businesses are connected to a lot of communication channels such as social media, online forums, google reviews, marketplace reviews, customer care numbers and so on. This makes it altogether important for brands to have guidelines in place well-before a contingency takes place. With the implementation of well-articulated e-commerce customer service SOP (Standard Operating Procedures), an e-commerce brand stands to gain from seamless communication protocols without any room for lapses or ambiguity. E-commerce customer service agents would accurately know what is to be conveyed to the customers most appropriately. Such a robust system will help the business manage pre-sales and post-sales communication in the most effective manner.
Product Catalogue Management:
In the online business, no one is directly selling 1-2-1 to the customer, hence the product itself has to do all the "talking." This makes it all the more important to have strict guidelines in place so that the product and the associated product descriptions get displayed error-free. With SOPs for ecommerce, there can be standardized processes that need to be followed when listing the product on-site as it acts as an e-commerce business blueprint. By following through with the established procedures, there is minimal chance of an error occurring during the listing of a product or catalogue management on an e-commerce website.
E-commerce Operations Management:
Successful business operations of e-commerce are dependent on internal stakeholders working in alignment with external agencies to achieve a common goal. By having well-articulated and system integrated, ecommerce operations sops, a business will have standardized systems that are less person-dependent and would ensure work flows seamlessly without any chaos. Poor systems have an adverse impact on operations management and at the same time hampers brand reputation as it leads to delayed deliveries, poor customer service, OOS situations, etc.
Ecommerce HR Management:
A company's culture is what defines and differentiates it from other brands in the same space. Organized working culture is not something developed overnight, but it gets created over a while during the course of the business. HR challenges in the ecommerce industry are way different from a traditional business, thus ecommerce business operations will have a direct positive impact if it has an HR handbook and policies in a standardised format. This will allow existing and new employees to easily align their actions with the company expectations & culture. In the long term, the management would not have to deal with low productivity situations, as the KRA's, KPI's, and its implications on the role becomes transparent with HR Standard Operating Procedures.
IT Infrastructure Planning:
The proverbial backbone of an e-commerce business is the technology infrastructure. Without that, it is difficult to get an e-commerce business off the ground. In technical parlance, it is utmost necessary for a digital business to have a robust online infrastructure with state-of-the-art technology supporting it. Moreover, the technology should be able to keep pace with the growth of the business. Meaning, there should be the addition and integration of ecommerce IT solutions to the existing processes in a streamlined manner with time. This kind of exercise can be made seamless with an online business blueprint that will serve as the guiding document to serve as the road map to fulfil a company's growing IT needs.
Why choose YRC to develop E-commerce SOPs?
YRC comes with years of experience of having developed and implemented e-commerce SOPs for online business catering to different niches and verticals. YRC as an e-commerce solutions companies is a go-to expert for online businesses when it comes to designing e-commerce SOPs i.e. ecommerce customer journey map, e-commerce order management process flow chart, e-commerce business process flow, e-commerce process flow chart, e-commerce business process diagram, e-commerce process flow diagram, ecommerce customer service sop, e-commerce HR SOP, and so on.
YRC is a business partner for online businesses in implementing e-commerce best practices that are prevalent among established e-commerce companies. Overall, involving YRC in the creation of best-fit processes for an online business can ensure the reduction in error rates and as a result negative reviews pertaining to order processing, return and customer support reduces drastically. We come with a reputation for implementing well-written and IT system-integrated SOPs so that the process blueprints do not just remain on paper. Our e-commerce solutions services drive towards an objective to make the company more system-dependent and less person-dependent and reduce errors in systems that are hampering the growth of the company.
What are ecommerce operations? How to improve ecommerce operations?
Ecommerce Operations is the backbone of any ecommerce business. It includes functions like Inventory Management, Order Fulfilment and Customer Service. It supports the business objectives, helps achieve efficiency and plays a vital role in brand reputation.
Ecommerce Operations are very critical as it's the reflection of how organised the company is? If Ecommerce Operations are not streamlined then it shall lead to order delays, high rate of returns and high volumes of negative reviews.
Ecommerce Operations can be improvised with a perfect blend of softwares, human capital and SOPs (i.e. Standard Operating Procedures)
Ecommerce Operations SOPs must be defined supporting the softwares used i.e. OMS, WMS, Inventory Management and Customer Service Software, so the team shall be productive enough and ensure minimal errors within the processes.
Thus, defining the SOPs is the first step towards improving the ecommerce operations.
How to improve ecommerce customer service?
Ecommerce Customer Service has a direct impact on brand reputation. If customer service is not responding on time and/or in an unpleasant manner, then it shall lead to negative reviews and brand may lose repeat buyers, which is the key for any ecommerce business to be profitable. Since the CAC is high in ecommerce, losing customers shall keep the average CAC (i.e. Cost of Acquiring a Customer) on the higher side consistently.
Ecommerce Customer Service department can be streamlined with the help of the right Customer Service Software and SOPs defined especially for the customer service team to handle returns, refunds and customer complaints. If the customer's complaints are responded to faster, there is a 72% probability to retain the customer and stop them from giving a negative review. Thus, software alone cannot help arrest the problems, it's the blend with SOPs which shall streamline the customer service for any ecommerce company.
What is order fulfillment in ecommerce? How to improve order fulfillment process?
Order Fulfillment in eCommerce means the process of receiving the order up to the last mile delivery of the ordered products. The fulfilment can happen from the company's warehouse or the 3PL warehouse or the marketplace warehouse. Thus, there is a high probability that fulfilment is happening from different stock points, making it challenging to manage inventory.
Ecommerce Order Fulfillment Process can be streamlined with the help of OMS (i.e. Order Management System) and in case of multiple stock points a multi channel inventory management software would be required.
Along with the software, well-defined SOPs (i.e. Standard Operating Procedures for Ecommerce) would be needed to ensure the team who is executing the process is well aware of the nuances of the process i.e. Order Picking process, Quality Check before dispatch, Packing guidelines, Last Mile Delivery process, etc. Delay or error within the order fulfilment process can lead to order delays, wrong order delivery, damaged goods delivery and numerous other deviations which can lead to a higher return rate, order cancellation and dissatisfied customers.
If you have your own ecommerce warehouse or fulfilment centre, then you can watch this video on "7 Steps to Design E-Commerce Warehouse Layout ". Click here.
How to manage ecommerce inventory?
Inventory is the lifeline to any ecommerce business. The key challenges in ecommerce inventory management are: introducing fast moving products, being competent with value of the product, multi-channel inventory management, cross-border returns, damage of inventory during transit, inventory handling issues at warehouse, OOS inventory, etc
In order to ensure the inventory is managed in an organised way, robust inventory management software and SOPs to manage ecommerce inventory shall help to streamline systems and ensure minimal error rates.
To know about "5 Simple Tips for ECommerce Inventory Management", click here.
Get Advice for E-commerce SOPs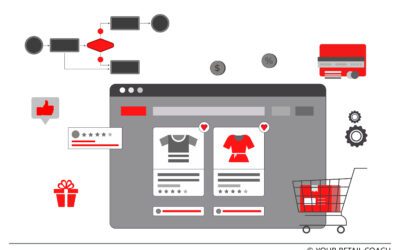 Fashion, ECommerce, and SOPs went to a bar……. If you are planning to start an online fashion business, you must be planning for a lot of things - business modelling, development of the business plan, technology, manpower, suppliers, etc. And if you have not already,...
read more