These individuals were in your shoes not too long ago.
Be inspired & start working today, towards your journey.
"I personally recommend YRC for anyone who is struggling with their business. Before we met YRC we were at a stalemate. YRC are the experts in their field with clear methodology."
– Loay Malaieka – Taza
"YRC is very punctual & straightforward. YRC helps to optimize the processes. For us they've helped in warehouse process and the internal & external optimization of the dark store operations."
– Saeed Alyami – Nana
"Right from "concept" to "execution" YRC has helped us, so I'm extremely happy. And they have completely supported us in the entire journey."
– Aditya Birla Grasim Industries
"YRC's expertise helped to clear all the problems, big and small. Would highly recommend YRC for other businesses. In fact we want to work with YRC in the future as well."
– Sangram Patil – Kiosk Kaffee
"I must appreciate YRC's understanding of the subject, the patience with which they met with all the stakeholders, high level of professionalism & the time lines that they achieved.."
– Mr. Varkey Joseph, Raymond Ltd.
"I wouldn't call them consultants; they have been partners to us. Extremely passionate about their job, they have taken immense interest in the project and gotten into all the nitty-gritties and solved a lot of roadblocks in the business"
– Kunal Ahuja, Director at Just Casuals
"We partnered with Your Retail Coach to work across our 100 stores. Overall the services of YRC went very well for us"
– Koushik Marathe, Director at Cotton King
"It has been a pleasure to work with Your Retail Coach team. YRC has been a great asset to us. They have always stood by us whenever we needed their support"
– Tushar Ashtekar, Director at M B Ashtekar Jewellers
"I would recommend Your Retail Coach to all companies in an expansion mode"
– Sanjay Shewani, Director at Hastakala Sarees
"We appreciate YRC's dedication, exemplory work, efforts & ensured deliverables"
– Parag Gadgil, Director at P N Gadgil Jewellers
"Your Retail Coach has given us 100% implementable solutions which has benefited our organisation a lot"
– Rajkumar Bhandari, Director at Moolchand Group
"Your Retail Coach have helped us to grow & simplify our business. They have helped us in setting up the process which we being in the business, could not do it"
– Dhanpath Sheth, Director at Zelia- Lights & Beyond
"Their management solutions helps to simplify the business"
– Ajay Khatri, Director at Ajay Arvindbhai Khatri
"YRC has done an excellent job for us in identifying, developing and documenting SOPs & KPIs. I loved their flexible approach & strict adherence to time lines."
– Mr. Ajit Pattnaik, Raymond Ltd.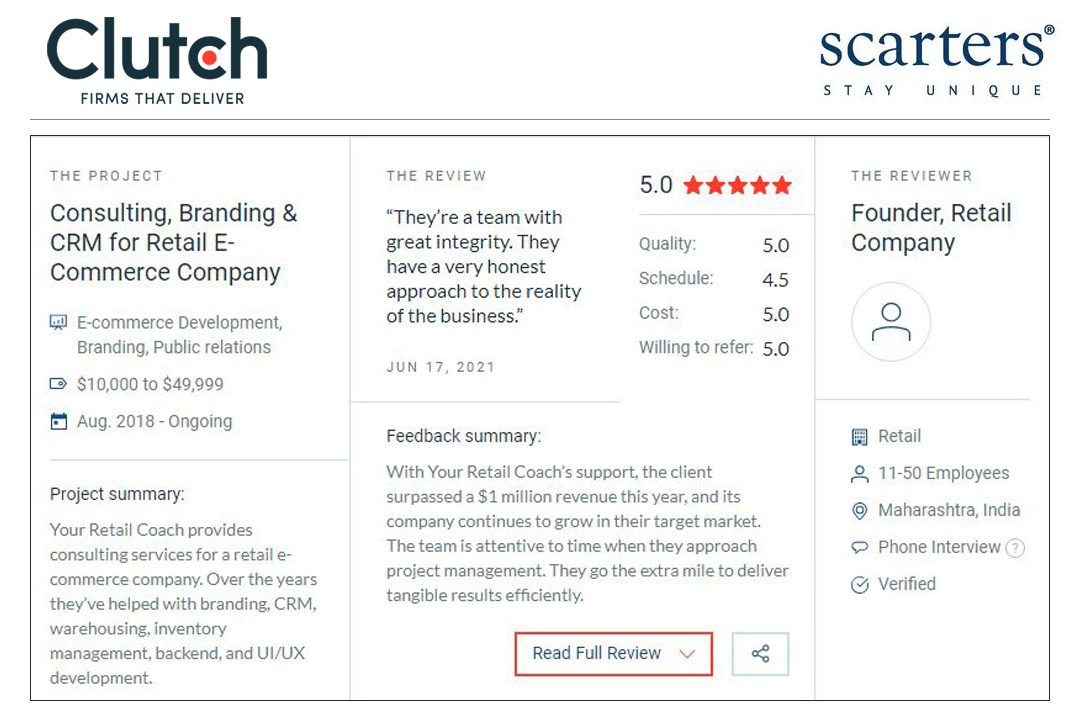 "YRC goes the extra mile to deliver tangible results while being attentive to time.YRC has supported us in each step like an extended hand, starting from making SOPs to hiring and training the right talent."
– Review on Clutch by Mr. Darshan Shah, Founder, Scarters.com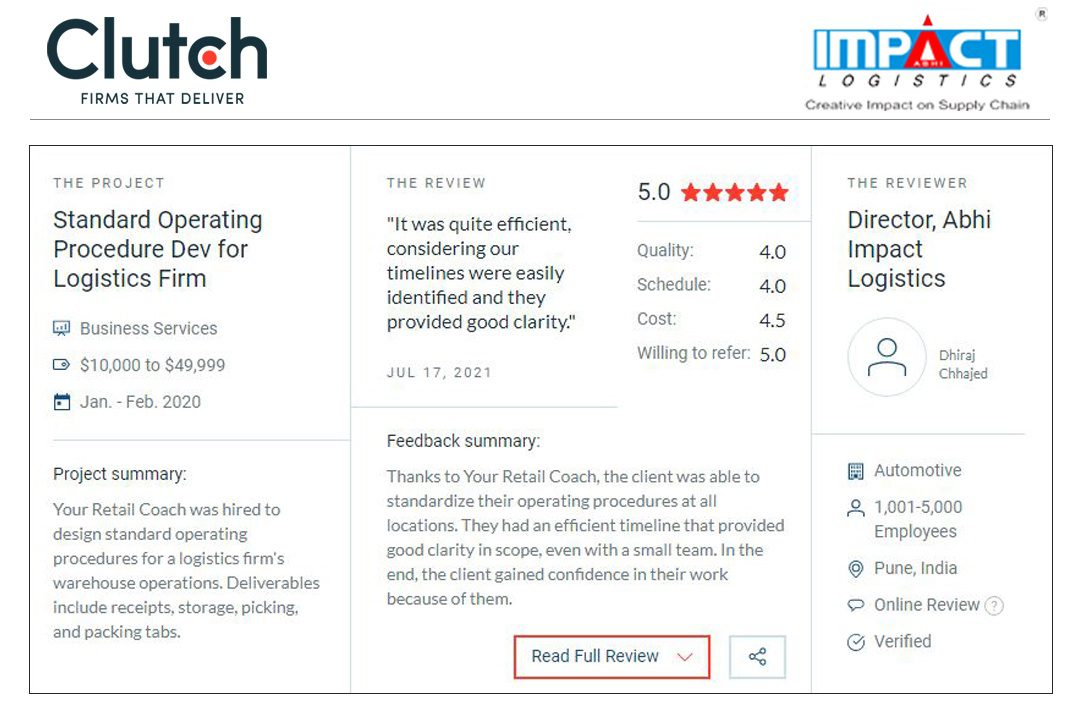 "YRC's miraculous understanding of project scope and ability to implement assisted Abhi impact logistics to standardise its operation in all locations within an efficient time."
– Review on Clutch Mr. Dhiraj Chhajed, Director, Abhi Impact Logistics
"YRC did detailed research to understand the individual roles and responsibilities of each member of UP police, identified the gaps in our system, and provided well-defined SOps and KPIs for us."
– IPS Asim Arun, ADG, UP Police
We work only for Visionaries.