FMCG Retail - Grocery Stores, Departmental Stores, Supermarkets, Dark Stores, Quick Commerce
About the FMCG Retail Industry or the FMCG Sector
What is FMCG retailing:
FMCG retailing or Grocery Retailing is nothing but the sale of grocery and other products of daily use or routine consumption to retail customers via various retail channels. Businesses that sell FMCG/CPG products via these retail channels include local grocery stores, departmental stores, supermarkets, hypermarkets, and the eCommerce mode. But it must be noted that when we say Fast Moving Consumer Goods, it not only includes food items. It can also use other household items like cleaning and laundry products, toiletries, stationery, over-the-counter drugs, etc. The three main segments of the Supermarket industry or Fast Moving Consumer Goods (FMCG) are household and personal care, healthcare, and food & beverages.
Importance of FMCG retail:
It is because of the presence of grocery stores, departmental stores, supermarkets, and hypermarkets within our (online or physical) reach that the common man is able to fulfil his routine household needs. From any remotest village to an uber-metropolitan city, this utility of FMCG retailing makes our everyday life possible and a service of essential nature. The pandemic of 2020-21 was a stark reminder of this reality.
FMCG retailing as a thriving industry and business:
Throughout history, the demand for FMCG products has never seen a downfall with a few exceptional instances. Consistently increasing population and urbanisation make FMCG a flourishing industry and its retailing a reliable business opportunity. In delivering grocery store consulting services, we have consistently witnessed that today there are multiple grocery stores in every urban locality or its vicinity. In the FMCG industry or the FMCG sector, if we talk about the big cities and towns, there are more departmental stores and supermarkets than ever. Purely eCommerce-based retailing in the form of quick commerce, dark stores or eGrocery stores is also on the rise in the urban FMCG markets. International FMCG retailing brands are going global and setting up stores in other countries. But all these aspects also make FMCG retailing a competitive space. The competition has gone cross-channel and FMCG and supermarket consultants know this. Being in the field of FMCG and supermarket business consulting, we could say that there is no permanent solution to counter competition. Our team of supermarket business consultants recommend focusing on business model development.
Future of FMCG retailing:
Going into the future, certain basic areas of work like business modelling, business planning, operations management, customer orientation, use of digital and industrial technologies, channel strategy, etc. will continue to remain as significant as ever. What has changed and will keep changing with time is improvising these elements for better alignment with the contemporary business environment of the FMCG and retail industry. For instance, omnichannel is all set to become a standard in the FMCG retail industry. It is not far from here that customers would be shocked if, say, a departmental store is not offering them the convenience of a seamless multi-channel experience. This will be similar to how we feel today when a sizable retail store does not have the option of digital payment. In the FMCG Industry, with cross-channel competition already setting in, cross-channel standards have also become applicable. So, if quick commerce retailing can deliver within 15-30 minutes, other channel players become vulnerable to such standards.
Challenges in the FMCG Retail Industry
Cross-channel Competition
Drawing from what we discussed above, now FMCG retail business is immune from cross-channel competition. Physical retailers are now adopting eCommerce. Not doing so costs them to lose their market share to online players with the right planning, strategies and operations. However, it is not easy for all online players like dark stores and eGrocery stores to break into the market share of brick and mortar FMCG retail. And this includes even international and national brands with local presence in one form or the other. Many FMCG manufacturers have adopted the D2C route. But their performance, which otherwise goes well with the traditional distribution strategies, fails to make an impact with the independent eCommerce route. In the FMCG Industry (FMCG sector), this is also true for departmental stores and supermarkets that are successful in the brick and mortar format. And in such situations, there is no harm in taking external assistance from an experienced supermarket or departmental store consultant.
Quick Commerce FMCG Businesses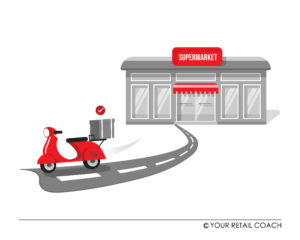 FMCG consultants around the world may differ on this but although Q-Commerce emerged with a lot of hype; its growth trajectory has not been as impressive as expected. Logistics and operational planning and strategies have proved to be a big hurdle for them. Q-commerce is possible in densely-populated, urban FMCG markets which limit the number of regions they can target. Traffic congestion in big cities makes sticking to such short delivery timelines extremely challenging. Concerns are often raised from many sections of society regarding the safety of the delivery partners who are on the roads attempting to make such delivery timelines possible. But still Q-commerce FMCG retailing poses a serious competitive threat to all other channel players.
Brand Positioning
In the FMCG Industry, with the homogeneity of products and services, brand positioning is a challenge for FMCG retailers. This even applies to local grocery stores that have very little scope for differentiating their business from the competitors in the same locality. The same is true for all new supermarket entrants in a market whether they come in the brick & mortar format, eCommerce, or omnichannel. On the contrary, the big brands have an upper hand when it comes to brand positioning irrespective of the distribution channel. With existing customer awareness, it is easier for them to attract customers. With a presence in multiple markets, they are also able to generate volume sales and offer greater flexibility in pricing. That further enhances their ability to promote their brands.
Supply Chain Disruptions in FMCG Manufacturing and Distribution

In FMCG manufacturing and retailing, businesses are dependent on smooth production, supply chain and logistical activities. And all these functions are external to them; carried out by manufacturers, distributors, and logistics services providers. Any mismanagement on the part of these entities has a bearing on the FMCG retail sales. For example, when an FMCG manufacturer fails to procure the raw materials on time, it affects its ability to produce and fulfil the demand. As a consequence, retail FMCG stores have to keep their shelves empty or fill up with other brands or products. They may even lose customers if such mismanagement becomes chronic. Supply chain disruptions also take place due to hikes in oil prices, protests in the transportation industry, the impact of changes in taxation, inter-state regulation conflicts, etc. And there is nothing much FMCG consultants can do here.
Synchronised Inventory Management
In the FMCG industry, all the entities involved in the supply chain – from production to retail must work with a certain degree of collaborative precision for synchronised inventory management. A manufacturer cannot push more goods into transit than what its distributors could handle. The same principle applies between distributors and retailers. A majority of small and medium retailers work with limited space for merchandising and stocking. On the other side, FMCG business retailers must also understand that it takes time for distributors to fulfil their reorder demands. They must have a good estimate of this time requirement which also depends on the ease of production, availability, and delivery of the products in question. That is one of the reasons why many experienced supermarket business consultants stress the importance of professional inventory management even in small and medium businesses.
Customers' Preference for Branded Products
Retail customers always carry a preference for popular and branded products. In any given product category, active brands are limited in numbers. For example, in infant cereal, Nestlé is a global market leader. Every one including the FMCG consulting experts know this. Historically, customers from all over the world have shown a strong association with Nestlé's products. In this particular category, retailers have no option but to go for this brand. When a company enjoys a dominant position in a market with little or no competition, it can dictate the margins. This is true for all dominant brands. So, despite lower margins, retailers still have to go for the products of these brands because of the unflinching demand and popularity. With their limited customer base and store space, small scale retailers are less enthusiastic about merchandising such products.
Unwarranted Price Escalation
As experienced FMCG consultants, we always maintain that the pricing strategies adopted by the market leaders at the macro level carry repercussions in the local markets. Many successful local brands imitate the pricing strategies of the domestic market leaders when their products are similar. Any unwarranted price escalation, without any corresponding value addition, by any company, whether it is an MNC or a local brand, is not good for customers. Such practices create scopes of margin flexibilities. Apparently, it may sound great for retailers because now they can offer discounts more flexibly. But when the same strategy is applied by all retailers, no one stands to gain. The same product from the same brand gets sold in a given market at slightly altered prices by retailers. For customers, this paints a doubtful scenario as to how FMCG companies and retailers are charging them. And being in the field of supermarket consulting, we know that this is also true for supermarkets.
Poor Layout in Stores/Warehouses/Distribution Centres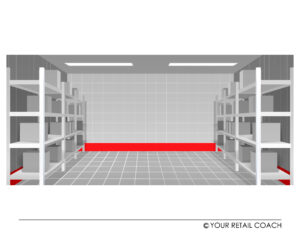 The first curse of having a poor layout is inefficient utilisation of precious space be it at a store, warehouse or distribution centre. In FMCG consulting, experts would agree that a retailer never realises the potential of having a well-planned layout until s/he has one. A good layout plan lets retailers stock more goods in the store. It ensures smooth movement of staff and customers in the stores. It makes the shopping experience more intuitive for customers. For example, the checkout counter should not block the entrance of a store. Or the use of proper banners providing directional guidance to customers in a store or supermarket minimises the need for such enquiries. The veterans of supermarket consulting realise the significance of a good layout plan for supermarkets and other such large-format retail chain outlets and grocery chain business. Layout planning is an important component when we begin to answer how to set up a supermarket. However, a majority of retail businesses are still operating detached from the contemporary standards of retail management. This pulls down the overall performance of the industry. As supermarket consultants and FMCG business consulting professionals, this makes our job both interesting and challenging at the same time.
Why YRC
We are retail and eCommerce business grocery consultants with 10+ years of experience. We have worked with more than 500 clients in more than 20 industries. From market research and business planning to retail supermarket chain operations management and audit processes, our services and solutions cater to unique and specific business requirements for all retail and eCommerce brands and businesses. YRC has a service presence in the Middle East, South Africa, and India with more expansion projects on the rolls. Here's a glimpse of some of our FMCG business consulting services and how we could help start grocery business and established supermarkets to reshape its planning, strategies, and operations to emerge as a contemporary and competitive brand.
In FMCG consulting, before we move to recommending, designing and delivering any solution to a client, our team of FMCG business consultants undertakes comprehensive market research activities. Every FMCG business comes with unique potential and vulnerabilities in a given market environment. For example, different channels perform differently for different products. In some areas, vegetable sales might be more popular via outdoor physical markets where the scope of price negotiations is high. In some other areas, customers may prefer buying fruits and vegetables from the local supermarkets. So, the best channel strategy for a business could not be derived without ascertaining the product-channel performance.
In FMCG consulting, we help FMCG retailers develop unique and competitive supermarket business models that are effective fto counter cross-channel competition in their target markets. Our retail store grocery consultants work on creating unique value propositions based on a detailed assessment of the strengths and weaknesses of the business. These assessments go a long way in helping FMCG businesses adopt the right brand positioning in a competitive market. They will also map the value chain and internal capability requirements so that clients could know how the UVP could be created and delivered.
Many traditional brick and mortar grocery stores seek growth and expansion and transform their business into a bigger format. We offer assistance for opening a supermarket and transforming supermarktets business into omnichannel, supermarket large formats, grocery chain business or grocery delivery business model depending on their goals and market potential. In projects like these, we offer the full range of our retail and supermarket business consulting services as per applicability. From concept, supermarket business plan to implementation, an expert and dedicated team of FMCG business consultants or supermarket consultants is engaged to carry out the entire project to assist across various areas of Supermarket business model.
Retail SOP development and implementation is one of our core services. Here, our team of grocery business consultants brings all the operational activities of a client's business into a realm of planned and defined framework. Every process and operation is defined using SOPs. Nothing stays outside the scope of definition. So, no operational activity ever goes out of planning. Whether it is an internal activity like inventory management or an outbound activity like CRM, every process is defined in terms of the flow of work, roles and responsibilities, standards of performance to be maintained, and deadlines to be adhered to.
If any FMCG retail client has specific requirements, we also design and deliver such services and solutions. For example, some retailers seek to improve the grocery store design layout planning of stores and warehouses. Our grocery store design consultants carry out detailed assessments of the available space and align them with inventory purchase planning. In supermarket consulting, we have also noticed that sometimes implementing certain SOPs for Supermarket also become necessary even in small spaces to ensure optimal space utilisation.
To know more about our FMCG business consulting services for physical and online businesses, drop us a message and our team of FMCG retail business experts shall coordinate a call back with you at the earliest.
Why develop SOP for supermarket business?
Standard Operating procedure for retail stores shall ensure smooth operations and reduce process failures by 25%. SOPs backed with IT integrated processes reduces the error rates by 85%. Retail business has high risk of failure if expansion is planned without well-defined SOPs. Top Level Management are busy in daily operations and their 70% time is consumed by daily operations with little or less time left to focus on expansion.
How to develop a retail supermarket chain business? OR How to develop a grocery chain business?
Chain retail business requires 04 pillars to ensure sustainable growth.
1. Efficient Middle Level Management at HO
2. Technolgy to support retal chain operations
3. SOPs to bring consistent experience across all stores
4. Efficient supply chain operations
To know more, get in touch with YRC experts today !!!
How to start grocery delivery business?
While developing a grocery delivery business, consider the following objectives while developing the business systems and business model:
1. Fast delivery within the range of 10 minuntes to maximum 45 minutes
2. SKUs which cannot be delivered online
3. Qty & weight considered for each delivery order
4. Mode of delivery: bike or delivery van
5. Distance for delivery
Refer to foll video for more information:
https://www.youtube.com/watch?v=afxZWf8Jzg4&t=75s
How to start an online grocery business? OR How to start an ecommerce supermarket business?
Listing down 04 key steps while starting an online grocery business.
Step 1: Business Model
Step 2: Dark Store Layout
Step 3: Organogram & SOP Designing
Step 4: Mobile App. development & Software Integration
Refer to foll. video for detailed insights of the above steps:
https://www.youtube.com/watch?v=yko1mYlArMs&t=148s
Looking for supermarket consultants for offline and online business? How to evaluate your gorcery consultant?
Supermarket consultants shall guide you in your journey from: ideation, market research, strategy & operations, go to market strategy and recruitment.
Few things to consider while shortlisting a supermarket consultant:
1. Total no of years in supermarket consulting
2. Do they have experience on offline and online supermarket business model
3. Do they have a team (as an individual grocery store consultant has high risk of project failures)
4. Have they worked in various models i.e. small, medium, large, premium, organic, highstreet, etc
5. Have they worked with retail chain clients, as they will understand the systems and supply chain operations
6. Fees must be the last parameter and not the major parameter to shortlist any consultant as you are investing your money based on their recommendations. Take ballpark estimate of fees from consultants and communicate your budget, if you have a hard cap on it.
How to plan opening a new grocery store?
07 Key points to consider while opening a supermarket/ grocery store
#1 – Business Model
#2 – Product Category Finalization
#3 – Layout Planning
#4 – Organization Structure
#5 – Standard Operating Procedures (SOPs)
#6 – Software Evaluation & Selection
#7 – SOP Training
Refer to foll. video for detailed insights of the above steps:
https://www.youtube.com/watch?v=yko1mYlArMs&t=148s
How can i setup an grocery warehouse from distribution OR How to setup a supermarket distribution centre?
Want to start a grocery business, both online & offline shop. How can YRC help?
Looking to start a new supermarket or start new grocery store. How can YRC help?
YRC has 10+ years experience in supermarket consulting. YRC has devised a 7-step process to start a new supermarket.
Refer to foll. video for detailed insights of these 07 steps:
https://www.youtube.com/watch?v=FauhTZr0q80
How can I grow my supermarket business?
Post-Covid, conumer behaviour has changed drastically. The way supermarkets operate has changed. As Gen X and Gen Alpha shall become major buyer of grocery, things will change drastically, thus supermarkets must start the change today and become ready to cater the changing buying behaviour.
Recommendations for supermarkets to grow their business:
1. Supermarkets can increase sales by going "Omnichannel"
2. Let your supermarket become your "Dark Store"
3. Retain Loyal customers and achieve the competitive edge
4. Use Technology to go Omnichannel:
Refer to foll. video for detailed insights of the above steps:
https://www.youtube.com/watch?v=fr2vNloJlCY
The fifth-largest and preferred retail destination globally, the Indian retail industry is one of the fastest-growing segments in the world. India is experiencing unprecedented growth with retail development taking place not just in major cities and metros, but also...
read more