Fast Moving Consumer Goods (FMCG)
I) Challenges faced by FMCG Industry
#1. Inventory Management
One of the toughest challenges in the FMCG sector is undoubtedly inventory management. When there are inflationary pressures and sales slacken, dealing with perishable or slow-moving inventory becomes a real problem. The companies in this sector need to have strong inventory management systems especially ARS i.e. auto replenishment system & well-defined planogram. In order to achieve excellence in inventory management most FMCG/ Supermarket businesses rely on Supermarket consultants like Your Retail Coach, who can reduce their learning curve and facilitates to achieve goals faster.
#2. Brand Building and Connect
Brand building and maintaining strong content with the audience is becoming so important in the FMCG sector. While the goal of marketing has always been to connect better, the way this reaches differs. It is critical to understand that there need to be new ways and opportunities for connecting with the consumer. Companies must establish trust in consumers and use different channels to build rapport and establish a relationship. Only then will they be able to power their brands and fuel growth.
#3. Grievance Management
Addressing customer problems and grievances in a timely way has become very important for the consumer goods business. In the present atmosphere of social media activity and transparency, bad reviews or ratings can damage company reputation in seconds. The value of building a solid, trust-based relationship with customers involves solving their problems as quickly as possible and turning crises or complaints into opportunities for growth.
#4. Low Product Margins
Low margins on products and high operating cost has left with no choice but to target volumes or it can bring the FMCG business down.

#5. Supply Chain and Logistics Management
Efficiency in logistics and supply chain is another core challenge for the Supermarkets and FMCG sector. The nature of the FMCG sector means deliveries need to be carried out on a constant basis, with the capability to adapt to seasonal fluctuations whereby peaks can be as high as 400% yearly. Products also have a limited shelf life on account of the fragile or perishable nature and changes in customer tastes. This accounts for continued supply chain efficiency by streamlining processes to meet price expectations and economies of scale.
Supply chain and logistics plays a very vital role especially for online grocery and online supermarket retailers, where logistics accounts to almost 45% of customer dissatisfaction reviews and remaining 55% accounts for product and other service related concerns. Thus, defining supermarket operations manual for supply chain and logistics is not a choice, but basic necessity for FMCG ecommerce.
Large Enterprises in the FMCG space must rethink warehouses, operations and supply chains to remain competitive in dynamic industries and service consumers as required. The competitive edge of this approach can be seen in FMCG warehouse operations of major companies. As retailers have restructured the supply chain, FMCG manufacturers carry higher stock volumes to manage demands in service levels. Optimizing storage space efficiency has become a significant challenge, leading to advancement in new technologies like AGVS, ASRS, and mobile-device driven fulfilment solutions.
#6. Management of Fragile Goods
The FMCG sector also faces the challenge of managing fragile or perishable foods. Careful packaging and handling of delicate products are of critical importance here.
#6. CRM for Customer Retention
A highly competitive, dynamic business environment has necessitated that FMCG sectors need to not only attract but retain customers as well. Hence, the need is to build and maintain a one-to-one, lifelong relationship with a massive customer base. This has led to the emergence of CRM or customer relationship management. CRM is built on the philosophy of relationship marketing. It aims to create, develop, enhance and retain relationships with customers and enhance lifetime customer value and organizational profitability.
The goal is also to improve customer experience, enhance satisfaction and build loyalty for increased profits. CRM is a business strategy which can yield significant ROI for the FMCG industry. It adopts a customer-centric business approach to support effective sales, service and process and marketing.
#7. Adopting an Omni-Channel Approach
What is equally critical at this juncture is that multiple customer voices across different online and offline channels must form part of an authentic brand narrative. An omni-channel approach encompasses website channels, e-commerce models, and traditional brick and mortar store frameworks and much more, so that integrated marketing communication is facilitated and customers have the choice of choosing an FMCG provider on the channel they are most comfortable with. To facilitate omnichannel retailing, you need a retail experience consultant for supermarket operations who can understand how to innovate. FMCG consultants shall help consumer goods business overcome their challenges and improvise customer experience.
II) YRC: Your Strategic Partner for Growth in the FMCG Sector
If you need to start an online grocery store, or built your own supermarket retail chain, it's time to choose a supermarket consultant you can rely on. CPG consultants, YRC has been a choice for many online and offline retailers, whether you need strategists well versed in CPG business analytics or consumer goods supermarket expansion.
The competitive environment for the FMCG sector necessitates need for reputed FMCG consultants. If you are wondering how to hire an FMCG consultant who can meet diverse requirements, talk to YRC, Retail consultants. Your Retail Coach anticipates trends and technologies emerging as the future of the FMCG industry evolves.
This reputed consultancy assists organizations in the FMCG to leverage their brand value and build their business by ensuring campaigns, trade activities and sales systems are streamlined for maximum efficiency with the help of standard operating procedure for retail stores. Retail Operations Consultant, YRC, ensures strong reporting systems and retail process manuals are in place to help your FMCG business expand by monitoring the "Business 3-s" i.e. staff, stock and sales.
III) About FMCG Industry
FMCG stands for "Fast Moving Consumer Goods" and CPG stands for "Consumer Packaged Goods" sold or consumed on an everyday basis. Consumers have a critical role to play in the FMCG sector as price bands of every FMCG product depend on consumption. Persistent, continuous and strong growth in the herbal and natural product segments has further caused accelerated the pace at which new launches are proceeding, by leading FMCG firms. Economic liberalization and transparent policies have piloted the economy towards the free flow of fast moving consumer goods. According to a Deloitte Report, the FMCG sector is one of the biggest drivers of global growth. The report further states the sector is set to grow at an impressive CAGR in the period from 2020-2023. So, if you are opening up a grocery mart or and online supermarket and wondering "how to start a supermarket business," consider that while the avenue for growth is limitless, so are the challenges.
Changing lifestyles, growing incomes and easier access have all driven growth for this sector. The urban segment accounting for a revenue share of 55% is the largest contributor to overall revenue the Indian FMCG sector generates. Further, the retail market in India alone is estimated to reach USD 1.1 trillion by 2021, from USD 840 billion in 2017. This will boost revenues of the FMCG companies, as modern trade is growing by average 20-25 percent per year.
Fast moving consumer goods comprise three basic sectors – food and beverages, which holds 19% of the sector's revenue. Healthcare accounts for another 31% and household and personal care account for the remaining 50%.
The FMCG sector is poised to grow at CAGR of 27.86 percent by 2021. FMCG companies are also poised to invest in energy efficient plants and food parks for capacity expansion and acquisitions in the domestic markets. Investment in the FMCG sector centers around sugar, food processing, cosmetics, and paper pulp industries.
Services Offered
Layout Plan
At YRC, we come with expertise for designing supermarket layout plan with a high emphasis on efficient space distribution that includes shelf space allocation and shop layout management. We execute the supermarket layout strategy to positively impact customer behaviour and improve overall customer experience. We believe supermarket interior design is the strategic use of space to influence customer experience.  Our in-house experts carry out this exercise by mapping customer movement flow and goods movement flow to enhance accessibility and comfort of the shoppers at the supermarket.
The supermarket floor plan layout is dependent on the use of furniture and fixtures, style and architecture of the building, paint colour and exterior building materials, physical entrance design and exterior window displays. And, we take all these factors into consideration, while conceiving and implementing a layout for a supermarket. We use well-known visual merchandising tools like planogram for deciding how to showcase merchandise in the supermarket. And, we seek to remind our readers that the biggest advantage that comes along with layout planning is loss prevention emanating from pilferage and associated practices.
Business Plan
We at YRC understand the importance of a business plan and how it fits into the overall scheme of things especially a supermarket business plan. Our effort would be focussed on making an effective document that gives an overall understanding of the business to investors, bankers, potential partners and sometimes even vendors. Our in-house business experts and consultants prepare the supermarket business plan with a keen sense of attention towards one-time and recurring investments that would be incurred during the setting up & running of a supermarket or a food retail chain.
We understand the critical structural framework of a supermarket business plan and try to create a concise and potent document that included all the critical components that go into making a business plan. This would include market research, competitive analysis, management structure, facts about products and services, marketing & sales strategy, and financial projections.
Apart from this, our experts pay special attention to elements within a business plan such as breakeven points, capital investment, cash flow analysis and return on investment (ROI). Getting it done by experts at Your Retail Coach (YRC) ensures that the business plan would not miss out on decisive parameters that may be overlooked due to the lack of awareness, understanding or essential planning that is a must for such a fundamental business document stipulating the grocery business plan. On the whole, we try to ensure that the business plan gets a clear roadmap on the financial plan for next 03 to 05 years, after commencement of business.
Standard Operating Procedures (SOPs)
Running a food retail chain is not a simple affair and does require consistent involvement from the top management on a consistent basis. But if the top management is completely occupied in the day-to-day operations, it can negatively impact the growth of the business. Leaders who are required to plan future strategy and growth initiatives cannot be tied with the day-to-day responsibilities of the food and grocery retail. In such a scenario, the most viable alternative is to delegate responsibilities within the organization with a growth-aligned organisational structure for supermarket.
Such delegation is only possible when the management has standardized and documented procedures for others to follow. This entire exercise pertains to the creation of standard operating procedures or SOPs. Experts at YRC come with hands-on experience in creating and implementing SOPs for supermarket to reduce errors within business processes and allow the implementation of industry best practices.
Research into retail management has suggested that the implementation of SOPs has a substantial impact on the ability of the supermarket to attract repeat buyers. Plus, it allows the SOP driven supermarket to distinguish itself from the unorganized retail sector that includes Kirana and 'mom & pop' stores. Our business experts at Your Retail Coach (YRC) from their experience suggest that the key processes that hamper the growth of a food retailer include supermarket inventory processes, billing process in the supermarket, home delivery facility and the accounting processes of the food and grocery retail.
By partnering with YRC, supermarkets can be assured that all such pivotal processes would be standardized and system integrated SOPs get implemented across the organisation.
Online Grocery Business Strategy
The online grocery business, today, is a very active space consisting of a combination of big brands and new industry entrants who are competing for a share of the online retail pie. With online retail growing an unprecedented rate, it offers scope for new players or entrepreneurs who have ambitions of opening their own online grocery store.
That said there needs to be enough planning towards devising a well-defined online grocery business strategy. The strategy should lay enough stress on back-end operations and online marketing for the online grocery store. We at YRC, clearly understand the nuances of creating a strategy for an online grocery store and come with a proven track record of having successfully helped our past clients in improving their business prospects even in a highly competitive market.
One of the primary things that all business entrepreneurs must consider is, today's customer has multiple options at his fingertips when it comes to grocery shopping. And, is likely to opt for a brand that offers better service and experience. An online grocery brand, for example, is only likely to succeed today if it offers timely deliveries and other value-added services to its customer on a consistent basis. Overall, it is all about bringing convenience and enhancing experience to the entire journey of grocery shopping. YRC experts shall analyse your competitor and define strategies to get you a competitive advantage to create a better customer experience.
Marketing Strategy
An effective marketing strategy is an essential element that brings visibility to a business. It involves spreading the word about the brand and reaching out to prospects and turning them into customers. In regard to food and grocery retail, it has been ascertained that 30% to 60% of purchases made are based on impulse buying. This makes it essential that supermarkets have a combination of strategies that include outdoor, in-store and online grocery marketing strategies to get the traction.
We at YRC, come with a near-to decade experience in multiple supermarket sales strategies that will help in improving the business prospects of the food retail. Moreover, our marketing approach for our supermarket clients starts by trying to understand the psychology of the end-user or individual customer of the local region, which happens to be quite effective and it can be ascertained by our success with past clients. Today, achieving a good ROI on marketing campaigns remains a challenge.
At YRC, we have in-house retail experts who come with academic training and necessary experience in formulating effective strategies for a good ROI in alignment with the business objectives and stage in the business cycle. On the whole, we are known by our ability to deliver on our commitments for both offline supermarkets brick-and-mortar and online grocery stores.
Get Advice for Supermarket & Online Grocery Business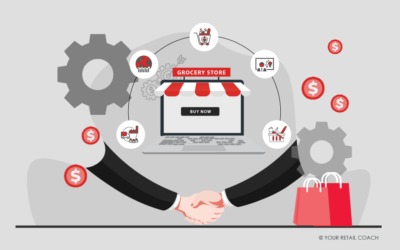 The grocery business by all accounts happens to be one of the largest businesses out there. And, it has evolved as a business by catering to the emerging needs of the consumer. This process of evolution would not have been possible without effective supply chain...
read more