Warehouse Consultants | Warehouse Standard Operating Procedures
New-Age Warehouses and Fulfilment Centres
Contemporary business models have altered the ways of managing warehouses. They have elevated the strategic relevance of warehouses and fulfilment centres (FCs). They are no longer in supporting roles. Today, warehouses and FCs contribute far more directly to the success of business models. A glimpse of this phenomenon is highlighted ahead.
Strategic Positioning
Today, we do not hesitate to buy even relatively-expensive items like television sets from online stores. There is a product for every budget. And it will be delivered and installed. TVs have got slender rendering them higher mobility. Retailers are willing to shed their margins to counter competition. None of these work without the strategic positioning of warehouses/FCs and the operational alignment to serve the business model in question. Even if you own a physical store, your warehouse location and its operational planning must reflect the requirements of your business model and strategies.
Maintaining the Desired Merchandising and Inventory Levels
Today, customers have a myriad of buying options. If a product is unavailable in a store or platform, they will consider another source. In the same way, customers are also brand conscious. The same is true even for packaging sizes. The unavailability of a particular product, brand, or size due to the absence of standard operating procedure for warehouse inventory management is not an excusable reason to lose customers. And that is why developing and following warehouse management SOPs are vital to maintaining the desired merchandising and inventory levels. Businesses can exert rigid influence over their in-transit and in-stock inventory via SOP for warehouse operations.
Omnichannel Capabilities
In light of the requirements of the omnichannel way of retailing, warehouses and FCs can no longer be made to function with their traditional capabilities. Enhancing their omnichannel capabilities require major upliftments in the form of space optimisation, adoption of process automation, logistics upgradation, and redacting of HRM. For example, if a brick-and-mortar retail brand intends to take on rising competition from dark stores, it will have to improvise upon its channel strategy, merchandising and stocking capabilities, IT infrastructure, and operational planning
Space Optimisation
As real estate is becoming pricier by the day, it is also becoming difficult to find space in attractive locations. For a common businessperson, it has become very challenging to tinker with pricing because of high rentals in urban areas. Rising competition and the foray of big brands into retailing have further added to this woe. But real estate is an external factor and businesses cannot do much about it. What they can do is go for space optimisation through layout planning and implementing SOPs in warehouse management. It allows them to make the best use of available space. In turn, they could handle more business volumes and expand their merchandising portfolio.
Process Automation
Warehouse operations cannot be left completely dependent on manual processes while the rest of an organisation has shifted gears to process automation. And here we are not only talking about industrial tools and hardware but also digital transformation. The warehouse operations management must integrate digitally with the enterprise-wide software ecosystem. The solution to this is becoming process-driven and use of best-fit technologies for executing warehouse operations. And choosing only one of these two will not work.
How YRC can help
YRC is a retail and eCommerce business consulting brand specialising in developing process SOPs among other services. In the past 10 years, we have worked with 500+ clients in 25+ industries. Looking into the future, we aspire to continue our scaling efforts on the global stage. We engage specialist retail and eCommerce warehouse consultants in the design and delivery of our services. From planning to implementation, our team of warehouse design consultants work along the lines of established planning and processes.
In this particular service, we assist businesses to craft their process and operational blueprints. This service is intended to benefit businesses that have their own warehouses and/or fulfilment centres. Robust, SOP-based processes for inbound, outbound, and control operations for warehouses/FCs are developed in this service. Essentially, the entire gamut of warehouse operations is brought under SOP coverage. Achieving this involves working in close coordination with our clients for better establishment of expectations and requirements. These simple warehouse SOP solutions could not only lend operational superiority to your warehouse/FC but also help adopt warehouse best practices and leverage our role in achieving your business objectives.
Our Solutions
Our solutions are customized as per the requirements. Our experts develop warehouse policy and procedures, related to:
Standard Operating Procedure for Warehouse Receiving- Inbound
Standard Operating Procedure for Warehouse Picking & Packing – Outbound
Standard Operating Procedure for Warehouse Dispatch – Outbound
SOPs for Warehouse Operations (Control)
Warehouse Functional Layout Design
Material Handling Procedure in Warehouse
Standard Operating Procedure for Warehouse Receiving- Inbound
SOP for receiving goods in warehouse or Warehouse receiving SOPs define how you deal with the incoming inventory of your warehouse/FC. This process definition and mapping help you achieve many important objectives:
Goods received matching purchase details
Quality checking for incoming goods
Timely initiation of return process
Classification and storage of items as per specific requirements
Documentation and reporting
Data accuracy for system entries and paperwork
Maintenance of cleanliness (via SOP for warehouse cleaning)
Better manage outbound operational activities
utaway (via sop for warehouse storage)
With our team of experts, warehouse standard operating procedures manuals are designed to help our clients achieve superlative management of their inbound warehouse operations. A representative version of a generic SOP for inbound warehouse operation is depicted below.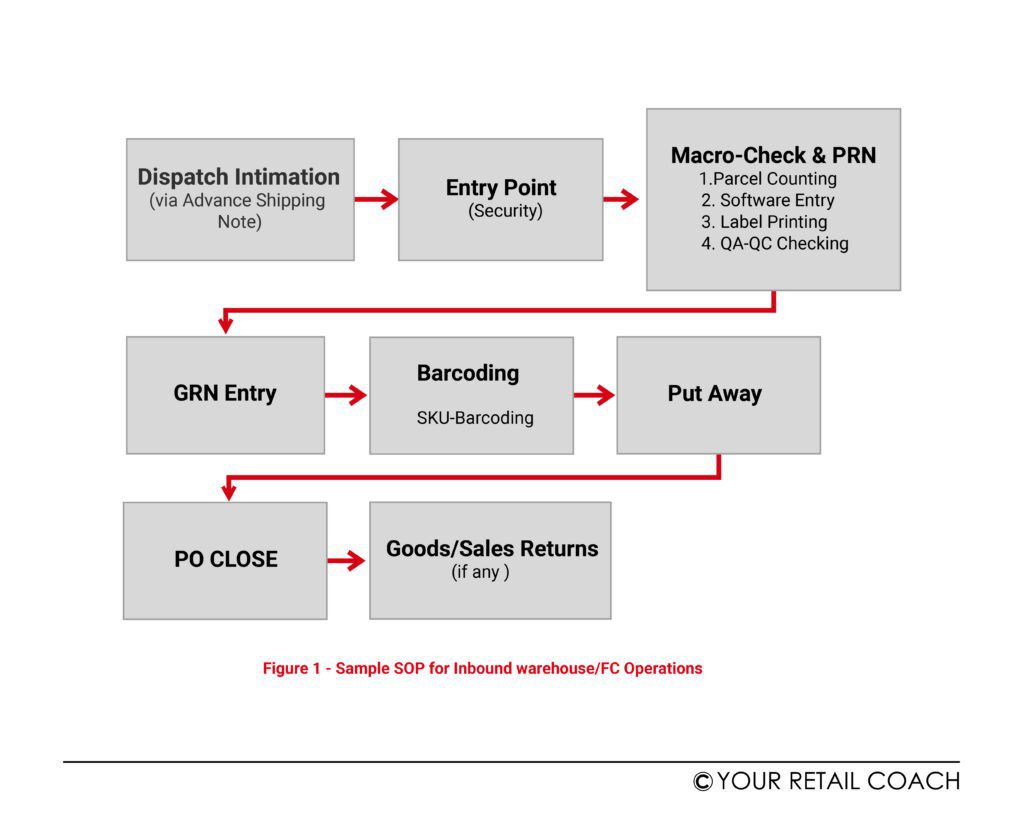 We customise the SOPs (SOP for warehouse receiving) as per the unique business requirements and provisions of clients. When you have a warehouse SOP flow chart with list of activities, it becomes easier for you to ensure that the following activities are carried out following the established standards:
Order conformity checks
Quality checks
Paperwork and documentation
Inventory identification, classification, and storage
WMS system entries
Compliance with outbound operational planning
Goods return
Standard Operating Procedure for Warehouse Picking & Packing – Outbound
&
Standard Operating Procedure for Warehouse Dispatch – Outbound
The management of the outbound operations in a warehouse/fulfilment centre affects the performance and delivery of other internal and external process stakeholders involved in the value chain or the distribution network. This ultimately affects the experience delivered to clients and customers.
Our goal is to help our clients develop robust operational planning for their outbound warehouse operations in the form of Standard Operating Procedures. A representative version of a generic SOP for outbound warehouse operation is depicted below.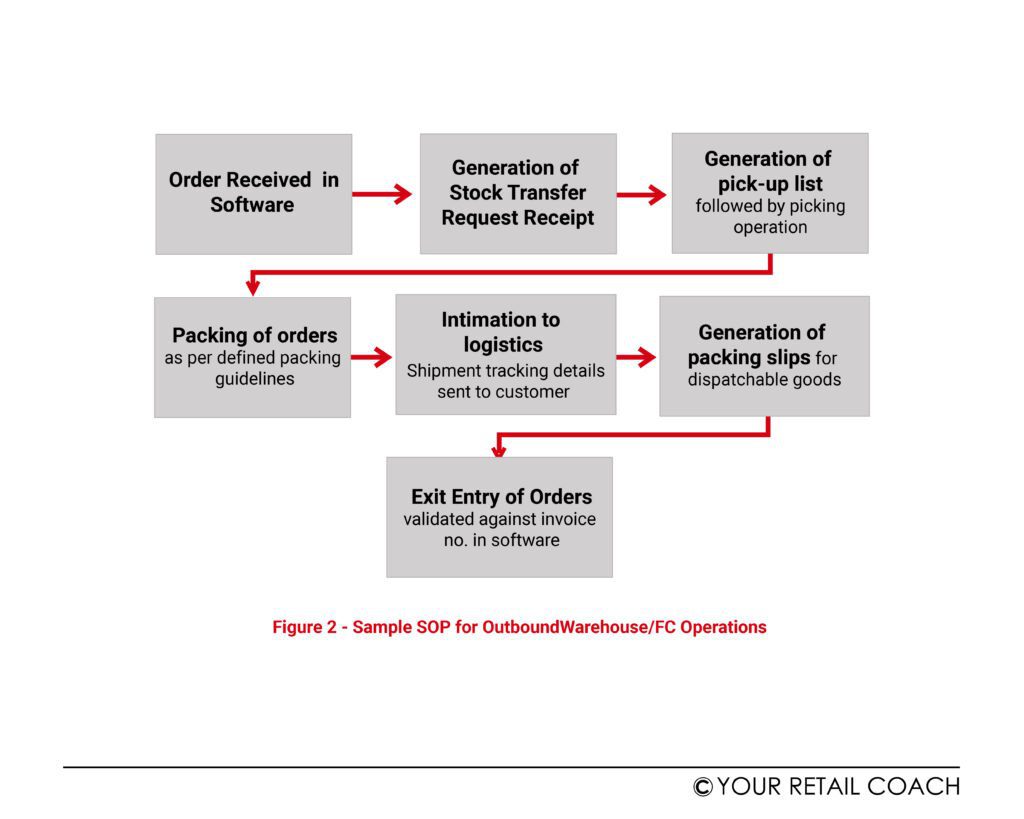 As for other SOP solutions, we customise the SOP for warehouse dispatch for our clients based on their business requirements and specifications. We aim to help our clients achieve:
Timely initiation of order fulfilment
Quick picking and packing with optimised workflows (with FIFO warehouse procedures)
Zero-tolerance for mistakes in labelling activities
Smooth logistical coordination
Zero-tolerance for unauthorised exit of any inventory from the warehouse/FC
Adherence to system entry/paperwork as per process mapping
SOPs for Warehouse Operations (Control)
Operational control measures are necessary in warehouses and fulfilment centres for evaluating the effectiveness and efficiency of the existing warehouse processes and procedures and making operational improvisations. For example, if your business is receiving too many complaints of mistaken or false deliveries, one area you should examine is the labelling section. This comes under root cause analysis for enhanced QA.
Our warehouse operations procedures aim to serve improvement in the areas of Waste Control, Quality Assurance, Warehouse Safety policy and procedures and Continuous Improvement. The coverage under each is depicted below.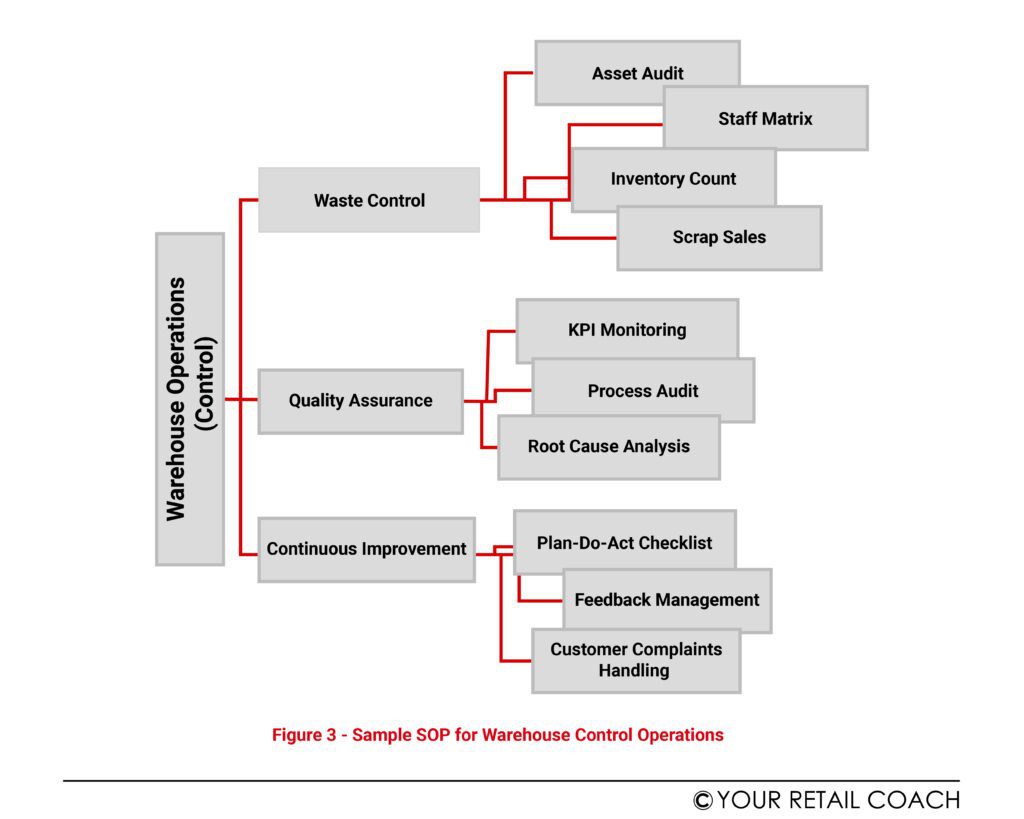 Different clients maintain different approaches towards these three elements. Our aim is to help clients define, map, and embed these control and improvement measures into their operational planning by the means of SOPs.
Process & Inventory Audits
Audits on regular intervals is the diagnosis of the overall health of a company. It is important to check whether your systems and processes are efficient, effective, and performing as planned. In eCommerce warehouse management, these process and inventory auditing is important for the same reasons. Even if you know that everything is going fine, clean audit reports are reassurances. And sometimes this auditing task is outsourced so that routine business operations are not hampered and expert insights could be gained.
Warehouse Functional Layout Design
The layout design plays a vital role in the overall functioning of a warehouse/distribution centre/fulfilment centre. Right from how inventories enter the place to how they exit for further distribution or delivery, the right layout design help businesses achieve space optimisation goals, ensure smooth movement of people and goods, manage ease of accessibility of goods during placement and pickup, maintain cleanliness and hygiene, and adhere to the established safety and security protocols.
As veterans in delivering distribution centre design consulting services, we have witnessed the evolution of traditional warehouse layout strategies along the lines of the emergence of eCommerce fulfilment centres.
In layout planning, our team of warehouse layout consulting experts cover zone classification, time and motion study, shelf management, mobility and accessibility, safety and security provisions, and more. The objective is to help our clients enhance their capabilities to handle more business volumes with high accuracy and efficiency.
Get expert advice today and save on warehousing costs while achieving higher productivity and customer satisfaction. Get in touch with YRC Experts. Click Here.
What is an eCommerce Warehouse?
An eCommerce warehouse is nothing but a warehouse used by an eCommerce/omnichannel business for storage and distribution of its inventories. ECommerce warehouses are popularly called eCommerce fulfilment centres or just, fulfilment centres as the orders are fulfilled from the warehouse and delivered directly to the end consumer.
What is the Difference between a Retail Warehouse and an eCommerce Warehouse?
The basic idea is the same for both – storage and distribution (end sale/delivery) of inventories.
Retail stores use a warehouse to stock goods in bulk for retail sales as doing that may not be possible in the store. When the stocks run low, the required quantities are quickly procured from the retail warehouses (usually in close distance to the store).
ECommerce warehouses (eCommerce fulfilment centres or micro fulfilment centres for eCommerce) are used as temporary inventory holding grounds to facilitate quicker home deliveries of orders.
If you are a warehouse retailer and/or selling via both online and offline channels (omnichannel/multichannel), you could simply call it a warehouse or FC. Its functionalities depend on what and how you make use of it.
How can I upgrade my Warehouse/Fulfilment Centre? Can YRC help with this?
Yes, under our warehouse management consulting services, we can help you upgrade your warehouse/FC in two distinct ways. First, we can help you define and map the operational roadmap of your warehouse/FC operations. Second, we can help you in identifying the WMS software requirements and finding the right software solutions for your warehouse operations management.
Our team of warehouse consultants can help you establish your warehouse/fulfilment centre for your retail/online/omnichannel business in the following ways:
Layout Planning for Space Optimisation
Development of Warehouse SOPs
Finding the best-fit WMS solution
Integration of warehouse processes with WMS
Our warehouse optimization consulting services can help you beyond setting up your warehouse/FC. Get in touch with YRC Team today !!
Get Advice for Warehouse SOP Consulting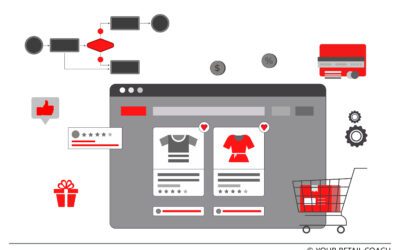 Fashion, ECommerce, and SOPs went to a bar……. If you are planning to start an online fashion business, you must be planning for a lot of things - business modelling, development of the business plan, technology, manpower, suppliers, etc. And if you have not already,...
read more