What is eCommerce Keyword Research?
Gauging the popularity of a product or service in a target market is a prerogative before venturing into it. It is a very simple but essential step. There could be many ways to get relevant answers. For example, it would not be difficult for you to make knowledgeable guesswork about whether a certain product or service or type of business would sell in your locality. You have lived there. You have a fair idea of the market. But the same would not be true for, say, a business based in Egypt and want to expand to the GCC. This is where keyword analysis (as a part of market research) chips in and could provide an educated perspective.
In keyword analysis for market research, the popularity levels of a product/service are determined based on online search activities. Extending the example used above, the Egyptian business house could assess the general popularity of the same or similar products/services in the GCC market. Say, the Egyptian business here deals in carpets. Keyword analysis will help the company assess the popularity of carpets in the target region on various parameters. Say, for example, keyword analysis could reveal that textured carpets are more popular than plush carpets.
As productive as keyword analysis seems to be, its use comes with the requirements of ingenuity and expertise. For instance, a product (say mobile chargers) may show a relatively high search volume for a region but people commonly go and buy what is easily available from the local stores. There could be many reasons for such online search behaviour. Adding another instance, no matter what the search volumes indicate, it is almost a certainty that customers would prefer buying frozen food from quick commerce dark stores or any grocery or supermarket store than from other online stores that would take days to get delivered.
In this blog, we shall delve into how to read keyword analysis reports. The focus will be on drawing insights for business decision-making.
Drawing insights from eCommerce keyword research
Brands-based Keyword Research
for a particular industry
Knowing which brands are doing well in the target market region helps businesses compare themselves with other brands. 'Doing well' here simply means in terms of search popularity. This assessment is important because it sheds light on the possible competitive positioning of a business in the target market. For instance, if the analysis shows that the top ten brands are multinational giants and your business is a relatively new brand, breaking into that list would be difficult. You may check the next 10 positions. The objective is to determine an achievable position in that list.
Visual 01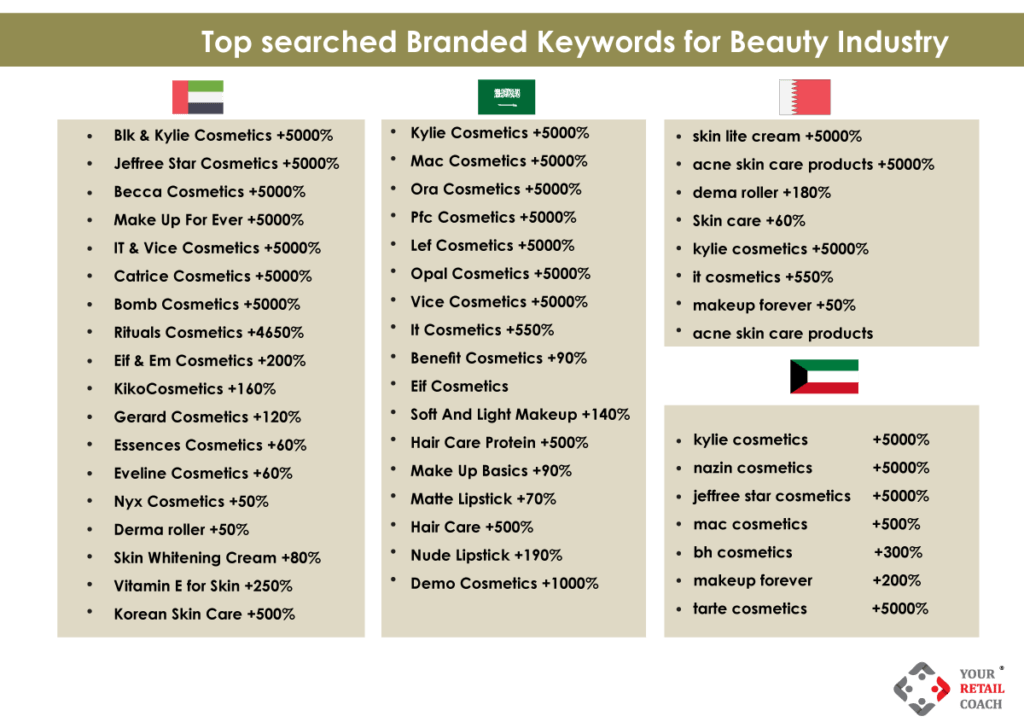 The chart above (Visual 01) shows the search volume data for different brands in the beauty product industry in four countries. The numbers against each brand show the jump in the popularity of that brand over a given period. Except for maybe a few names, there are hardly any similarities in the data across all four countries when it comes to pinpointing any market leader for the region. Many brands have similar popularity levels whether we consider one market or all four markets. These top performers need not be the market leaders. It simply indicates that these brands (and their products) have been widely searched for.
Another interesting highlight of this data point is the wide difference between the top performers and the rest of the players. And considering the hikes in the search volumes of the top performers in the list, these brands must have done something differently to have this effect on the data for this period. It is also possible that some of them are new players that made a name over this period. And this is not just in one country but all four. A distant but possible inference could be also drawn that the consumer behaviour is tilted towards novelty and experience.
Market-based Keyword Research
for different product categories
An industry-wide keyword research reveals only certain broad estimates. This is good for starters. But after this initial assessment, it becomes imperative to ascertain what is happening in different product categories across the targeted regions. In this analysis, the focus shifts from competitor brands to the market-wise popularity of different product categories. This information is useful for businesses to improvise their focus – not all product categories would perform well in all markets. The chart below represents a market-based keyword analysis for different product categories in four different country markets.
Visual 02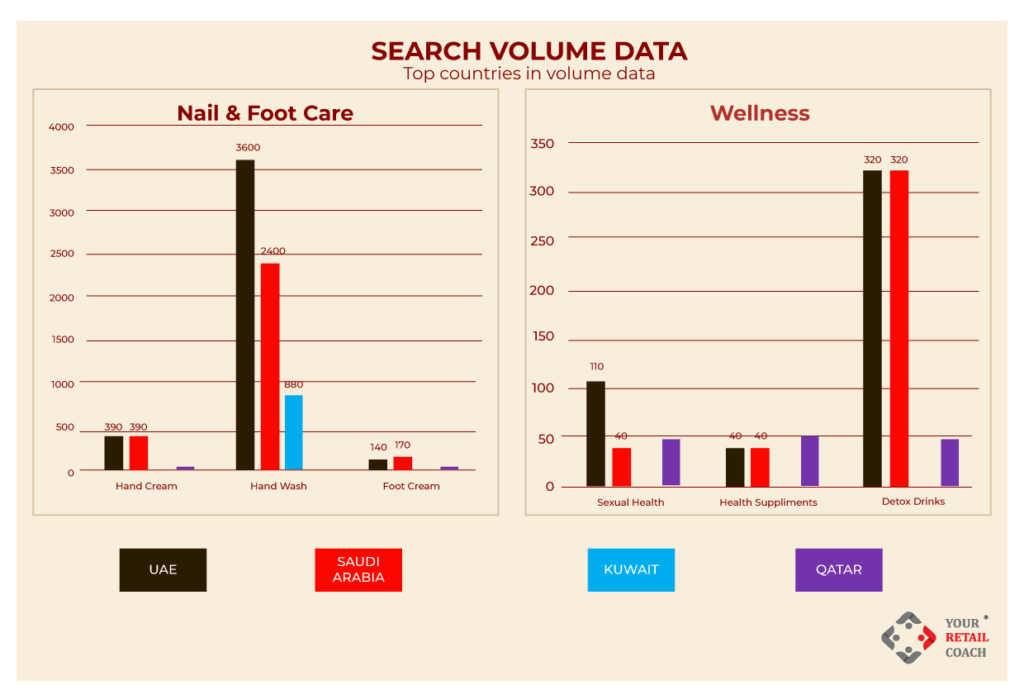 In the above data point (Visual 02), individual search volumes for product categories are shown for each country's market. Broadly speaking, the UAE market captures the top slot in every product category except the make-up category where Saudi Arabia leads. Compared to the UAE and Saudi Arabia, the search volumes are relatively low in Kuwait and Qatar for all the categories. Although the UAE and Saudi Arabia appear as relatively more promising markets, the competition could be also expected to remain at high levels in these two countries.
The high search volumes in three product categories namely skin care, makeup, and hair care shed some light on the popularity of the products in these categories in all four countries. It is natural to assume that these categories also exhibit higher demand levels. We are saying this because intent is a vital consideration in keyword analysis. When people search for products online, certain keywords show that the intent is to buy. How many people you know would search for a beauty or personal care product for a purpose other than for a purchase consideration!!
Market-based Keyword Research
for an individual product category
So far, we examined keyword research analysis for an entire industry and different product categories against different market regions. But every brand does not deal with every product category. For instance, a beard care brand would be interested in knowing what is happening in the beard category. It would be further interested in a country-wise assessment in the same niche. This gives rise to the need for carrying out a keyword research that focuses on selected product categories. This helps businesses further narrow down their assessment of the popularity of the types of products within a category. Extending the same example, it is not sufficient for a beard care brand to know that the search volume is highest in one particular market for beard care products. What if the brand specialises in beard oil and not in beard shampoo/conditioner?
Visual 03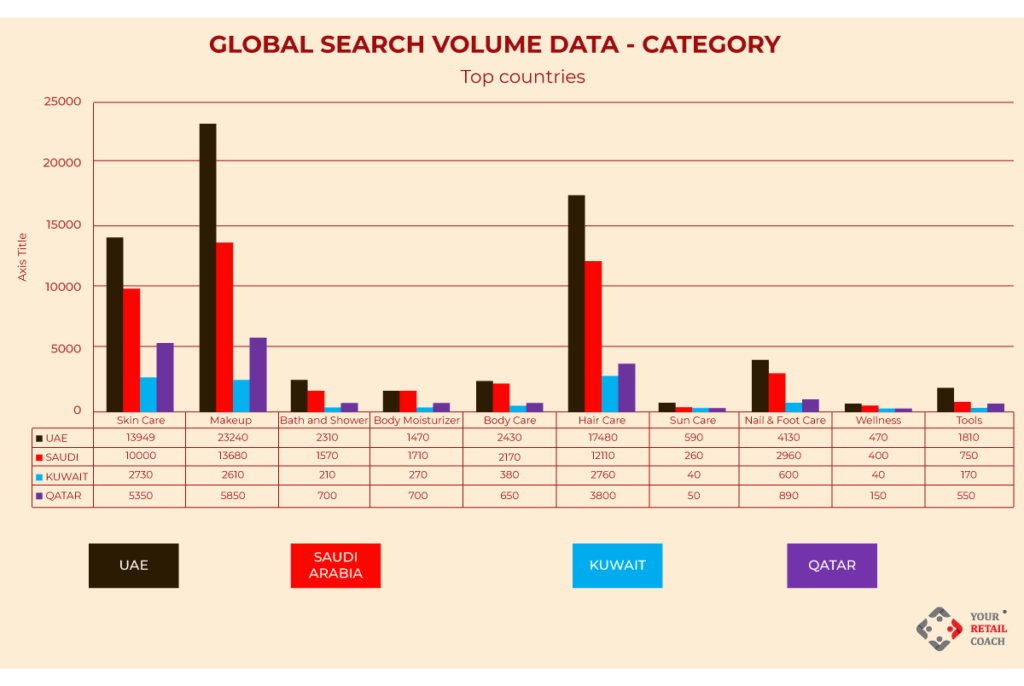 The chart above (visual 03) shows the search volume data for different product types in two selected market regions. The names of the product categories as it appears in the chart can be ignored in this analysis as the focus is on what is happening inside the categories. From the chart, we could read that hand wash products have overwhelming search figures, especially in the UAE and Saudi Arabia. The same could be said for the detox drinks category. But that assessment is quite obvious. We can consider the foot cream category. Here also, Saudi Arabia and the UAE have the tallest bars with the former doing slightly better. So, for a brand that specialises in foot cream products and if one market has to be considered for further evaluation, it would be Saudi Arabia. No final decision regarding market selection could be made from this data interpretation alone. Research on other parameters must also be considered for business modelling, business planning and business strategy formulation.
       

ECommerce Competitor Research

       

ECommerce Customer Research

       

ECommerce Pricing Research

       

ECommerce Demand Research

       

ECommerce UX Research
Key Takeaways
Without keyword research, it can get extremely challenging to peek into the trends of an unknown market region. Sitting in one country or another state, it is nearly impossible for brands and businesses to make a learned assessment of the popularity of the same/similar businesses and products in another country or state.
Today, the cost of eCommerce market research is seen as a short-term but critical investment. And carrying out a keyword research analysis has become a part and parcel of eCommerce market research. It helps businesses predict with a high degree of certainty about the popularity of products in another market.
But on a reiterating note, keyword research alone is not sufficient. But combined with research on other elements like consumer behaviour, competition, pricing, demand, and UX, keyword research can prove to be a powerful tool.
How can we help you?
For service-related enquiries on our retail and eCommerce market research services. To have a quick dialogue with one of our market research consultants please drop us a message on our website and we shall connect with you at the earliest.
Found this blog worth Reading?
If you liked this blog, please visit our blog section and YouTube channel for regular updates and insights on the retail and eCommerce industry.