I. Challenges faced by Retail (Brick and mortar, E-commerce) Companies
Retail analytics consultants are accelerating the growth of retail organizations for the assessment of business operations such as supply chain, human resources and financial performance from the perspectives of consumers and enterprises.
1) Increased Emphasis on Predictive Analytics
The requirement of accurate forecasts and optimized business processes is acquiring increasing importance in a data-driven world. Most vendors have introduced applications to integrate statistics, forecasting algorithms and predictive analytics models into analytics apps, reports, and dashboards. But implementing business analytics for retail is not so simple.
An SOP for this process from a reputed retail domain consultant can make the process easier. Further, predictive analytics in the retail sector offers customer interaction, along with management of backend activities such as warehouse logistics, CRM, data analytics, tracking, mobile support and more.
Growth of Big Data and IoT has boosted predictive analysis in the retail analytics market. Retail analytics solutions allow analysis of multiple store functions, monitoring store performance, improving category management and increasing efficiency of marketing promotions, sales management, budgeting and operations.
Retail organizations need to focus on store operations to access detailed reports in timely ways and make actionable decisions based on store performance management, labor planning, general ledger, store profitability, category management, sales, margins and inventory.
Retail is among the oldest platforms for buyers to interact with sellers, long before e-commerce and m-commerce even emerged. The retail industry has relied on great displays of products, competitive pricing besides effective salesmanship to get the work done. With the growth of technology and many new avenues for acceleration of growth, the retail industry has to evolve. SOPs and training on Retail Analytics can help bridge the gap.
2) Lack of Domain Expertise and Knowledge
Another major challenge is lack of domain expertise on the part of the analytics development team, while coming up with the product. Lack of domain knowledge results in failure to suggest improvements or changes in products. Thus, training on Retail domain or having an retail domain expert team working on Analytics will give a better output and also reduce the turn around time of development.
3) Issues in New Product Development
New product development remains the biggest challenge, considering IT experts are programmers first and developers second. Lack of business knowledge can result in gaps between the technical team and the client's requirements.
4) Inability to Understand Consumer Needs
Lack of 360-degree knowledge in building products suiting the client's requirements is another hurdle. An understanding of applied statistics in management is tenuous at best. Pilots are commissioned using internal IT teams or vendors whose understanding of analytics is restricted to business intelligence. Some analytics vendors cannot bridge the divide between their analytics know-how and the specialists who are adept at maneuvering retail challenges.
Retailers belonging to the traditional school of management cannot adapt to analytics and trust it to the level of useful, but not strategic data guided by teams and vendors possessing incomplete understanding of the retail business or applied analytics, or both. Ignoring the tremendous potential of analytics, retailers are resorting to me-too strategies and are late adopters of analytics, without realizing its true benefits.
II. Benefits of working with Retail Domain Consultant YRC
Retail Business Analyst from YRC have been working on predictive analytics for a wide range of retail clientele. They bridge the gap between their client's requirements and the technical team. YRC Consulting further provides a market research perspective and retail operational angle to clients. Detailed analysis on various aspects of supply chain, customer relationship, sales and management as per the requirements of customers is now easy, with this exceptional retail consultant at your service.
This enables effective design of strategies for analytics companies and implementation of the same by providing appropriate inputs to teams and constructing executable products. Value addition to client deliverables involve the use of product development experts at YRC for any type of retail product upgradation.
a) Pricing: Now use predictive analytics to establish prices for retail products across various product lines and categories, through data science and machine learning. A predictive pricing model can yield optimal data on real-time sales information and optimization of prices at particular points in time.
b) Recommendation Engines: Ecommerce can even be used in predictive analytics to make key recommendations for customers based on past purchases or activities in social networks. Real-time data can inform the recommendations of online sales teams. This type of recommendation approach can also extend to in-store experiences for brick and mortar retailers.
c) Inventory Management: Poor inventory management incurs sales losses, painting an inaccurate picture of lower demand for specific items. This makes future order predictions based on previous data inaccurate. Smart retailers can use real-time data to move inventory where needed before it becomes late. Predictive analytics can also be used to decide how to stock products and the warehouse location, in association with data on regional differences in weather, preferences, etc.
d) Smart Revenue Forecasting: Instead of forecasting revenue from shoppers seeking historical data, predictive analytics permits accurate forecasts based on predicted buying habits of new customers.
III. About Retail Analytics
The biggest factor driving the retail industry is the availability of extensive data, increased digital intervention and rapid social media adoption. New advancements in technology such as AI, augmented reality and beacon technology add to the use of data platforms for optimal data collection. The data is placed in an extensive analytics system, providing various matrix for driving sales, increasing stock turnover ratio and reducing overheads as well as increasing ROI and promotions.
When companies are seeking expansion, retail analytics has become an inevitable factor. With analytics providing valuable insights associated with hard numbers, turning a blind eye to this tool is not advisable. Retail analytics can help business organizations to tweak business models, develop clientele solutions and expand in newer markets.
Consumers have become principal drivers of growth and change in industries, more so in the retail industry. Further, decision making has become complex. Regardless of time or tech advancements, concerning and difficult decisions are always around. This includes how to retain valuable customers, how to price products to maximize profits, which customers should launch the next campaign and what should be the inventory to reach optimal consumers.
While data, machine learning and statistics are essential for optimizing business decisions, analytics is the boon to a retail business model. In one survey, PwC found that close to 90% of respondents depended on analytics for better business prospects. The advent of cloud-based PoS, social media and mobile technologies has triggered an exponential growth in the volume of data generated and stored via retail organizations. As complex, statistical AI algorithms uncover latent patterns and predict future outcomes, the scope of analytics for retailers is expanding.
Big data is helping retail organizations to change the way they make decisions and transitioning to big data requires a dedicated data insights SOP to make informed and strategic decisions. Use of specialized analyses, tools and techniques require skilled retail consultants and data analysts. Retail domain analytics can make all the difference. Some of the obvious benefits of such analytical solutions in relation to pricing and supply chain are the reason why ecommerce brands are venturing into analytics.
For brick and mortar establishments, the focus is on the selection of store locations, optimization of store size and analytics for customer engagement. Ecommerce analytics also includes online business analytics for boosting customer loyalty and developing clientele solutions to be of utmost value. The global retail analytics market is projected to reach a value of USD 10.34 billion by 2023, registering a CAGR of 18.26 percent across a forecast period from 2018 to 2023. Retail analytics serves to predict a wide range of consumer preferences from unique tastes to simple demands.
Organizations in the retail sector especially CPG retail brands are increasingly relying on BI and retail analytics tools such as Tableau analytics and Microsoft Power BI analytics. In areas such as customer intelligence, operational intelligence and merchandising intelligence, analytics in retail and ecommerce industry and merchant category analytics require SOPs for effective execution.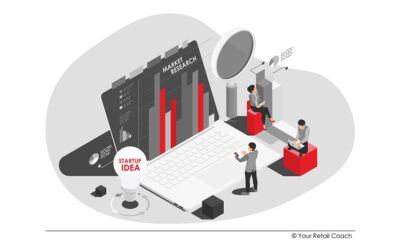 A secret to success every start-up should understand Secondary market research revolves around the collection of market statistics, demand, and supply curves for the past few years, decoding the recipes of your market competitors' success, gathering the stats about...
read more