In recent years, retailing hasn't been easy, especially during this pandemic period. Moreover, many retail store activities have been disrupted by the rise of e-commerce, such as the behemoth Amazon. It is, therefore, vital that today's retail operations professionals adapt to address that challenge. The key to success-in stores or online-lies in superior customer service, both today and in the future, as the retail sales professionals say it.
Each company came with a distinctive style of management. And so are the retail outlets. This is why, in the long run, each retail outfit requires SOPs (Standard Operating Procedures) across verticals, departments, and team members. This ensures sustainability for retail businesses. For retail sales growth, end-to-end SOP frameworks can be the solution that your business needs from SOP for a retail business to the standard operating procedure for warehouse, store operations, e-commerce, supply chain management, and logistics.
Retail POS
Point of sale (POS) refers to the place where a customer executes the payment for goods or services. The sales taxes may be payable at this point. It can be in a physical store where card payments or a virtual sales point, such as a computer or mobile electronic device, are processed using POS terminals and systems. All this helps in retail POS management.
For retailers, Points of Sale (POS) is an essential subject. Automating the checkout process and controlling critical sales details, electronic POS software systems streamline retail operations.
Using advanced POS data analysis monitoring technology helps retailers catch price or cash flow differences that might lead to loss of profit or disrupt sales.
Customers, particularly in the hospitality industry, can communicate directly with the retail point of sales systems. The best POS and eCommerce integration systems also referred to as location-based technology, can process transactions at client locations. For instance, clients can display menus at several restaurants and place orders at terminals located at their table. In hotels, clients use identical terminals to place room service orders or to pay hotel bills.
Retails Team Roles and Responsibilities
While sales assistants are working in many types of outlets, including department stores, supermarkets, and specialist stores, their primary roles are identical, helping customers pick and pay for items in a shop.
The retail selling process includes:
Stocking Store Shelves
Retail employees who stock shelves ensure that the right products are available for purchase at the right place. Their function is to monitor shelves and replenish supplies of any items that are running low. A store worker changes the price labels on the goods or the shelf if product prices change.
Creating and Maintaining Merchandising Displays
To increase sales of specific products or make customers aware of promotional offers, stores have to create product displays. The displays are prepared by retail workers with merchandising sales skills and ensure that they stay in good condition throughout the promotional period. In such situations, retail staff can ensure that the displays are consistent with the supplier's orders.
Providing Customer Assistance
The roles and obligations of sales workers in certain stores include supporting consumers in buying decisions. The more complicated the product is, the more likely it is that customer service is required. Retail staff may show products or counsel clients about the most appropriate products for their needs. In self-service shops, such as supermarkets or electronic retailers, customer assistance is also relevant, where retail employees help customers locate goods or clarify product features.
Customer Checkout Assistance
Retail workers who work at the checkout accept payment from clients. Depending on the type of purchase, they can also help clients pack their items. Checkout personnel may arrange for the later delivery of the product to the customer's home in omnichannel retail stores.
Customer Service and Education
The retail staff takes responsibility for many elements of customer care. They deal with grievances and clients who want to swap or return goods, applying the business's applicable terms and conditions. Personnel with customer service duties often deal with the guarantee statements of consumers. Employees can be very active in the consumer education process in specialty retail stores and provide education about getting the most out of one's purchase.
Facilitating Store Operations
Retail workers carry out essential operational duties such as opening and closing the store, visual merchandising, sales, supervising stock deliveries to the store, organizing the stockroom and customer grievance handling. Thus, having a Process Manual is a must to avoid error rates and ensure smooth functioning.
Sales Promotion Management
There are many uses of the term 'promotion' related to marketing activities. All activity related to sales communications and activities, including advertising, public relations, social media, discounts, rebates, coupons, and events, is a promotion in its broadest sense. In a narrower context, marketing entails direct consumer communication practices and excludes advertisement and PR.
To be successful, some promotions don't need to generate a profit. Even if it does not produce new revenue or revenues, a promotion that sends this message is successful if you want to keep your brand on the market and remind your customers that you are willing to satisfy them when they are ready to buy. Many promotions require goods to be sold at a loss to get consumers in the door so that they spend money on higher-margin items.
Set a range of benchmarks to test each to evaluate the efficacy of your promotions. During a promotion, review your website and social media traffic to assess its impact on consumer behavior. Calculate the cost of running the promotion, including your staff time, media and printing costs, and the cost of opportunity.
Opportunity costs are advantages that you have missed using your resources, effort, and cash to do something else.
Study your promotions regarding how they have helped you meet other marketing objectives, such as your branding, delivery, and pricing plans.
Online Retail Sales Management
Consumers are now turning to Google more than ever to find shops and goods. Make sure that whenever they perform a search related to your company, you show up. For example, if you sell baby clothing, you want nearby customers to find your company whenever they look for a "baby clothing store near me."
Use a solution like Pointy or similar, which enables you to view your Google online retail sales without re-entering your inventory data manually.
For example, if you use Vend, you can link Vend, and Pointy and your inventory data will be automatically displayed on your Google Search and Maps Business Profile when customers search for your business name or, probably, for a product that you have in stock.
The first move is getting a great-looking shop. It would be best if you kept the visuals fresh to help boost traffic and sales. To keep up with the new trends and seasons, this means updating periodically.
People are not going to buy unattractive goods, so it is essential to have good in-store visuals. Here are a few general instructions to follow:
Have a focal point so that people know which objects or things to concentrate on. Displays that are too noisy or distracting are only going to confuse your clients.
Make them interactive or useful. Help individuals see the goods in motion.
Develop displays that demonstrate the items in use or make it easy to shop
Keep things clean and organized. Not only does an arranged room look fantastic, but it also helps consumers to find what they need more efficiently, thereby helping the shopping experience.
Show front and centre with your favourite brands. As Piero Ferrari, a customer service representative at Premise LED Inc., says, "always have a show of your best items at the entrance to the shop, regardless of price." According to him, doing so "communicates what you are able to do and is a great conversation starter for the sales team."
Retail Sales Analytics
The process of using analytical tools to analyze business trends, patterns, and performance in the retail industry is retail analytics. To enhance customer experience, increase sales, and optimize operations, retail business analytics allow you to leverage data-driven insight from your business and customers.
Retail analytics will provide actionable insight from sales and marketing to supply chain, inventory, and consumer behaviour to positively inform any aspect of your retail sales. Retail analytics tools can help you recognize evolving tastes, the most crucial consumer cohort, so that you can build strategic marketing strategies more effectively. You can find goods that sell the best, forecast revenue and potential demand, and better monitor cash flow with the aid of retail data analytics.
Effective retail sales processes incorporate insight from retail analytics tools about their consumers, products, and operations to make informed marketing, sales, and operations decisions. You obtain a single source of truth about your clients, their purchasing habits, and their online and offline interaction with your brand through retail analytics. Analytics for e-commerce retailers shall help to raise brand recognition and optimize digital advertisement outcomes.
Gain Insight on Customer Journey and Behaviour
When your clients connect across platforms with your brand, retail analytics will help you understand their actions during their shopping journey. This perspective will help you create deeper relationships by describing the types of deals and interactions you have. This can help you to cross-sell in retail.
Enhance Customer Experience
You can more quickly get insights about consumer tastes and desires when you harness the power of retail analytics. This knowledge will help you boost their in-store and online experience with your brand, serving to build and sustain a more loyal customer following.
Anticipate Demand and other Significant Trends
Retail analytics tools provide the information you need to understand consumers' purchasing habits so that you can predict and prepare for potential demand. This knowledge will then tell how goods or services can be priced and marketed to produce more sales and optimize the supply chain.
Improve and Optimize in-store Operations
Retail analytics offer real insight to help you optimize in-store operations in all fields. With analytics, you can detect inefficiencies and opportunities to strengthen and standardize processes that boost the customer's experience and predict demand and better optimize stock, inventory, and staffing levels.
Why YRC to help organize your Retail Sales
Your Retail Coach experts specialize in the retail standard operating procedures. SOPs for your retail company is an expenditure to guarantee that you have a system-driven company.
For every retail business aspect, be it departments of back-office to the front office & omnichannel sales via online to offline mode, YRC designs custom best-fit SOPs, which can help transform your retail business to become more efficient, productive and can have a positive impact on your sales per square foot.
Contact YRC experts to harness all your retail selling growth opportunities and achieve your company's real potential.
Benefits of Standard Operating Procedures (SOPs)
Get Advice for Retail sales SOPs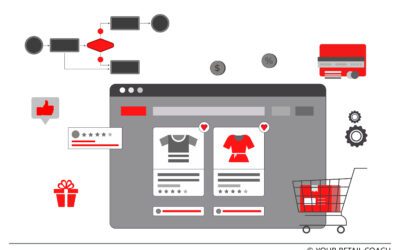 Fashion, ECommerce, and SOPs went to a bar……. If you are planning to start an online fashion business, you must be planning for a lot of things - business modelling, development of the business plan, technology, manpower, suppliers, etc. And if you have not already,...
read more