Retail Sports Stores and Business Consultants
About the Retail Sports Industry
What constitutes the retail sports industry? It refers to an industry comprising retail brands and businesses that offer to sell products used for casual, fitness, and professional sports in the retail markets. The products include apparel, footwear, wearables and specific merchandise used/required in a sport. For example, various merchandise involved in swimming include swimwear, swim caps, swimming goggles, microfiber towels, swimming earplugs, swimming kickboards, pool footwear, etc. Similarly, each sport has unique requirements. And retail stores make the required merchandise available in the market for retail customers.
How to classify retail sports stores? Retail stores (including chains) in this industry can be classified based on merchandise offered and brand ownership or association. Some retail stores exclusively deal in any one particular sport. For example, a local store dealing only in swimming merchandise. This retail store could be an independent seller brand in itself that sells swimming accessories of multiple brands. But then it could also be a single-brand retailer or franchisee where it sells products of exclusively one brand only. For example, a local franchisee of Speedo – a global brand for swimming accessories.
Another classification of retail sports stores. A more commonly found format is retail stores dealing in merchandise for multiple sports like cricket, football, swimming, etc. Here also, a retail store could be an independent seller brand that procures goods independent of any brand association. Brands like Decathlon fall in this category. Or a retail store could be associated with one or more franchisors in an exclusive (single-brand) or non-exclusive way (multi-brand).
The retail sports industry is growing at a promising rate all over the world. The demand for sporting merchandise is steadily increasing owing to many factors. Heightened awareness among the masses about maintaining routine physical activities has turned many people towards various sports as a part of their fitness regime. Millennial parents show enthusiasm towards the all-round development of their children including physical fitness. This has increased the number of young kids getting to sports like tennis, swimming, martial arts, etc. Once someone is into his/her favourite sport, even if it is for recreational purposes, it is difficult for them to abandon it.
But the industry is also marred with many existing and emerging challenges. The pandemic of 2020 had slowed down the growth of the industry for more than a year. Owing to safety measures, sporting activities came to a long halt. While things have started to head north, many old and new unaddressed challenges have resurfaced. These challenges are discussed later. The bigger issue is whether retailers are willing to change and transform their businesses in an altered business environment.
How to transform a retail sports store or business? Either the retailers will have to do this on their own or with the external assistance of experts. In whatever form they choose to plan and implement this transformation, retailers will have to upgrade their retail business operations for sustainability and expansion. As retail management consultants, YRC offers to help retail sports businesses located anywhere in the world, to bring this transformation in small and manageable ways through its retail sports business consulting services.
Challenges in the Retail Sports Goods Industry
Duplicate Products in the Unorganised and Online Markets
The retail sports market is filled with duplicate and look-alike products. Some of these products are also of such quality that they offer value for money. The look-alike products are priced less than their originals. This easily attracts many unsuspicious customers. Customers might or might not be aware of such duplicity or look-alikeness. But ultimately, such products eat into the market share of the retailers who sell authentic and genuine products. Sometimes these products also slip into online marketplace platforms that enjoy customers' trust with an approach of "If it is sold here, it must be genuine". It is also difficult for the manufacturing brands to keep a check on such parallel markets.
Brand Association
Customers are well-aware of the fact that big brands charge higher because of many factors of which one is for being a reputed brand. At the same time, big brands are increasingly losing the edge of premium pricing because of diminishing product innovation and the emergence of alternative and more economical brands in the retail sports goods markets. When these emerging brands offer good quality products, it no longer remains a difficult decision for customers to shift to these lesser-known and emerging brands. This has affected the franchise business model of the industry by adding more uncertainty in determining brand performance. Going exclusive with big brands is an expensive affair. Emerging brands are yet to prove their long-term mettle.
Tough Competition to Physical Retailers from Online Sellers
ECommerce has left its impact also on the retail sports business. The decades-old stability of physical retail sports stores has been stirred by online competition. The routine benefits of eCommerce like multiple brands to choose from, discounted pricing, availability of product variations, comfortable shopping experience, ease of product return, etc. are all there for the online customers of retail sports merchandise. Except for a small segment of customers who prefer buying from physical stores, which is also necessary for certain product categories, consumer behaviour is becoming increasingly tilted towards online shopping. It took 'eCommerce' for physical retail stores to focus more on customer experience.
Competition from Importing Brands
A football priced at INR 500 in India may cost 3-4 times more in the United States. The same could be true the other way round for some other product. This explains the lucrativeness of international trading. Retail sports brands that source their products from another country with a big cost advantage will be able to sell their merchandise in the host country not only at profits but also with price competitiveness. It becomes nearly impossible for domestic manufacturers and retailers of similar products to counter such advantages. At the end of the day, the best way to do business wins and it takes the entire industry in that direction until a better way is found.
Soaring Real Estate Prices
Whether it is a physical store or an online business, space is required to conduct business. Businesses require space for setting up stores, warehousing, distribution centres, and offices. Choosing the right locations is very important. With rising real estate prices for renting, leasing or purchasing, it is not easy to afford space in desired commercial locations. This financial burden has to be borne by businesses and eventually passed on to customers. It affects the competitiveness of businesses, especially the brick and mortar enterprises that need their stores to be located at prime locations or at least close to such areas. It has become increasingly difficult to find space, let alone find them at less-costlier rates.
High Segmentation of the Markets
Today, the retail sports merchandise market is flooded with a wide variety of options in each product category. Different users have different usage requirements. Some customers are brand-conscious while for some others, quality comes before the brand. From low to premium pricing, there is something for every segment. Even in terms of quality, the standards are way too many to the extent that it is difficult for customers to gauge and they begin to tilt towards known brands. For example, in the running shoe category, there are different types based on usage requirements. There are shoes for professional athletes (runners) and shoes for casual fitness like for use at a gym or for walking purposes. Some customers prefer a cushioned base while others seek tougher soles for longer product life. There is something interesting to be found for every need and every pocket. The same could be said for many other product categories. The segmentation can go very deep. It becomes challenging for retailers to target a niche market for then they have to go to extensive merchandising. Assuming a unique brand positioning is even more difficult for general sports merchandise stores.
Talent Acquisition and Retention
Specialised product knowledge is very important for business owners, store managers, and sales staff when they are selling sports merchandise. As we saw in the previous point, for a store that deals with running shoes, its employees must carry sound, technical knowledge of the different types of running shoes available. Even the veterans of retail consulting in the sports business know that it is difficult to find employees with domain-specific experience, especially for the positions of store managers and sales executives.
Talent retention is a generic problem for all industries and it is no different for retailers in this industry. Because there is a shortage of employees with relevant experience in sports retailing, those who are there are always highly sought after. It specifically applies to the sales team.
Lack of Expertise in Store and Business Modernisation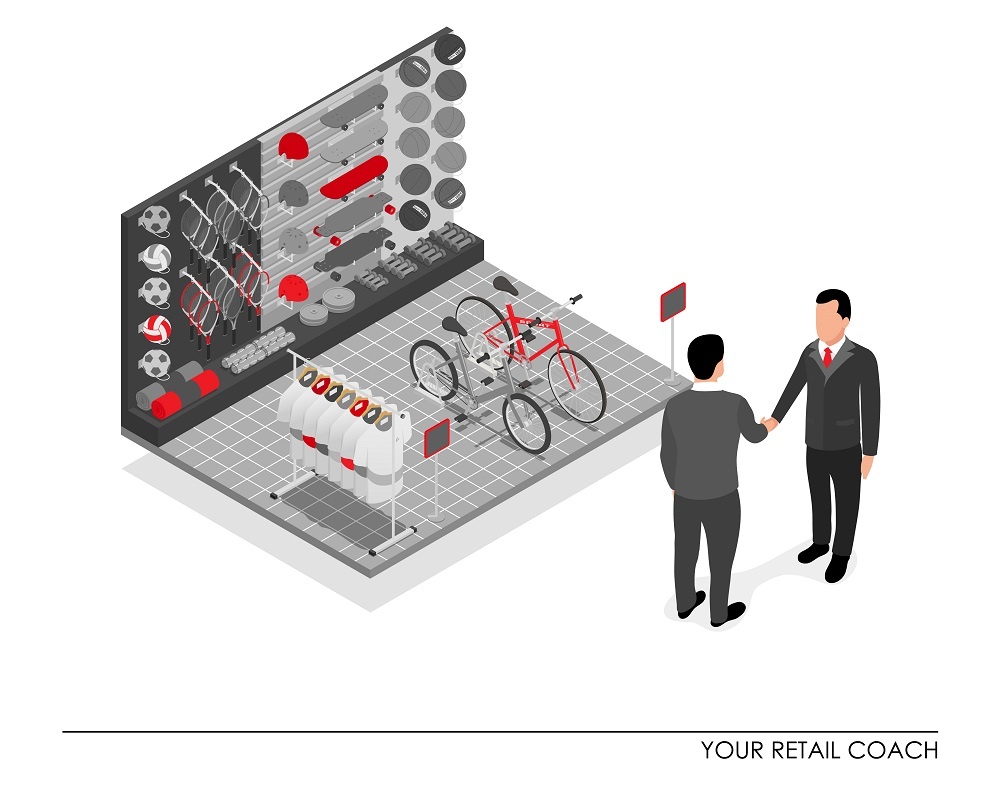 Many retail enterprises are aware of the need to upgrade and modernise their business starting from their business model to the operational framework. But it is a massive task. And many of them are not willing to disturb the status quo especially if the business is presently doing well. This is also accompanied by the rarely realised and acknowledged issue of the lack of experience and expertise in bringing retail transformation. Few proactive enterprises might have transformed themselves on their own. Few may have taken a few small steps in that direction. But having the guidance of an expert and experienced team makes this much-needed process easier and quicker.
Why YRC
We are 10+ years into retail and eCommerce business consulting niche. We have served over 500+ clients across 20+ verticals. As an emerging global consulting brand, we serve globally with active presence in India, South Africa, Middle East regions.
As adaptation is becoming a necessity for many traditional retail sports stores, we help our clients realign their business to the contemporary and relevant market requirements and business environment. And we do not just mean visual modernisation. Broadly, we work towards:
       

Redefining business strategy for unique brand positioning

       

Chalking reliable business plans

       

Formulating effective functional strategies

       

Planning for robust operations across departments and store locations

       

Achieving high-performance digital marketing

       

Efficient inventory management

       

Optimised store/warehouse layout planning

       

Better talent management
Another strong component of modernisation in the retail sports industry is the adoption of strategic digital transformation. Specific to individual clients, we offer assistance in formulating the business-IT strategy, identifying the digital requirements, and implementing the solutions. Here, in retail sports consulting services, we help clients determine how and what kind of digital technologies could help their business become operationally more efficient and enhance its potential for growth and expansion.
As experienced retail consultants in the sports industry, we always reiterate that going omnichannel should now be a top priority for single-channel retail sports enterprises. Our expert team of sports retail consultants help businesses adopt omnichannel in a strategic, planned and systematic manner. Whether it is a physical store intending to go online or an eCommerce player looking to establish a physical presence, we specialise in providing solutions for cross-channel expansion. We ensure that clients have a fail-safe roadmap for delivering a seamless experience to their customers with streamlined omnichannel operations.
If retail sports enterprises are to compete effectively with their online counterparts and other physical retail stores, they will also have to revamp their business models. Our business model development services are intended to achieve this goal. Here, we identify and define the UVP for our clients' retail sports business. This also covers the formulation of channel strategy, operational roadmap, and technological requirements. Our team shall map and define the value chain and internal capabilities required to effectively and efficiently deliver the identified UVP.
Before trying to accomplish any business transformation, small or big, planning is required. For good planning, relevant informational inputs are necessary. These inputs come from internal data and external market research. It is not difficult to assimilate the internal data. But market research is required to gather external data and information. Online market research is one of our preliminary services where we carry out detailed studies and assessments of clients' target markets. The objectives are to identify prospective segments and how clients can best serve that segment. Our reports shall include CTAs and action-recommendations.
To know more about our retail sports consultancy services for physical and online businesses, drop us a message and our team shall coordinate a call back with you at the earliest.
Landscape of Demand for Electronics Products Electronic devices and equipment like smartphones, laptops or electrical home appliances like microwaves and refrigerators are no longer the true reflectors of urbanisation. In today's world, electronic products can be...
read more