How is Competitor Research Different in eCommerce? How to do it right?
Competitors are one of the most influential elements in the external environment of a business enterprise. And every business enterprise is a competitor to other business enterprises in the same market. What you do, affects your competitors, and vice versa. This necessitates that every business enterprise keeps a tab on their competitors and their activities. The objective is to formulate better strategies and decisions for the business. Competitor research is the answer.
Ecommerce is already a fiercely-competitive channel. If you are not already an established brand, it can be difficult for your brand to grab attention. You may think that your business model and business plan is perfect but your competitors could make it shallow with a few strategic decisions. But you also have the same advantage if you have the right competitor research and analytics at your disposal.
In this blog, we shall delve more into the relevance of and strategies for competitor research in eCommerce.
Identifying the Market Leaders and Direct Competitors
It is important to know who your brand is competing against. Three important parameters in classifying competitors are market leaders, direct competitors, and indirect competitors. You should avoid locking horns with the market leaders or the established players. For that, you must know who they are. They need not always be the big popular brands. The indirect competitors could be discarded because they compete for a sub-segment of customers within the same segment. Your emphasis should be on your direct competitors. Their activities have far-direct implications on your business than the market leaders or the indirect competitors. When you carry out a competitor research for your eCommerce business to identify competitors based on, say, domain traffic, the output visuals look as depicted below.
Pic 1:
Pic 2:
In the first visual, it can be seen that Hopscotch is leading the charts with traffic domination of about 97%. The brand has a high traffic volume but the traffic growth is low as depicted in the second graphic. The other nine players share the remaining traffic volume. Even within this share, the top three players are in close combat. Among them, Popees is the fastest growing brand in terms of traffic growth. With these insights, you are in a much better position to ascertain who your competitors are, even if you are targeting a new market with a new product line.
Assessing the Broad traffic Parameters to Individual Competitors' websites
In the previous point, we saw the competitor-wise break-up of the total traffic volume and traffic growth rate of a list of competing brands. But we also need to see what interesting things happen within the individual traffic data points. Or let us say we seek to determine what audiences are doing after visiting each website. Let us anonymously take an eCommerce website and read its traffic data. The visuals are shared below.
Pic 3: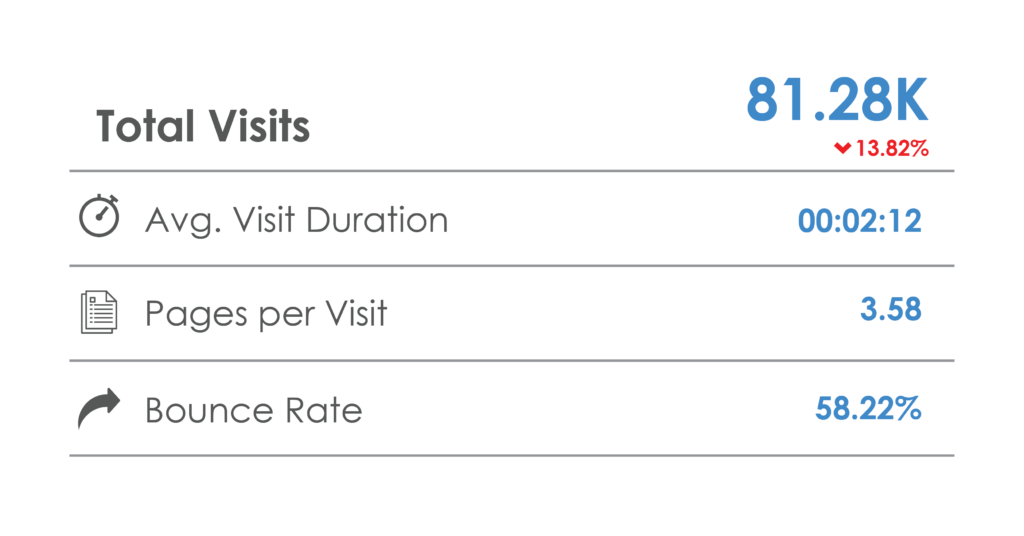 The total number of visits to the Commerce website stood at over 81k in a certain period. It indicates how times the website was opened. For simplicity's sake, we are assuming that these are unique visitors. Although 80k visits may sound like a good number, the traffic volume has decreased by over 13% against the previous period. This particular competitor is losing its traffic. The average visit duration is the average time spent by a user on a website. This number stands at 02:12 which does not look sufficient for an eCommerce website. The bounce rate is averaging at 58% indicating the site is good enough to be able to hold back its audience. Lower bounce rates are better but the contemporary average levels are 50-70%. The bounce rate of your eCommerce site should be closer to those of your direct competitors.
Assessing region-wise attraction to competitors' websites
Region-wise analysis of your competitors helps you in making many important decisions. Most importantly, it gives you a direct hint at where your customers are and which markets your competitors are focusing on. You can assess the data for an individual competitor as well. Take a look at the snapshot below of an eCommerce market research report carried out by YRC.
Pic 4: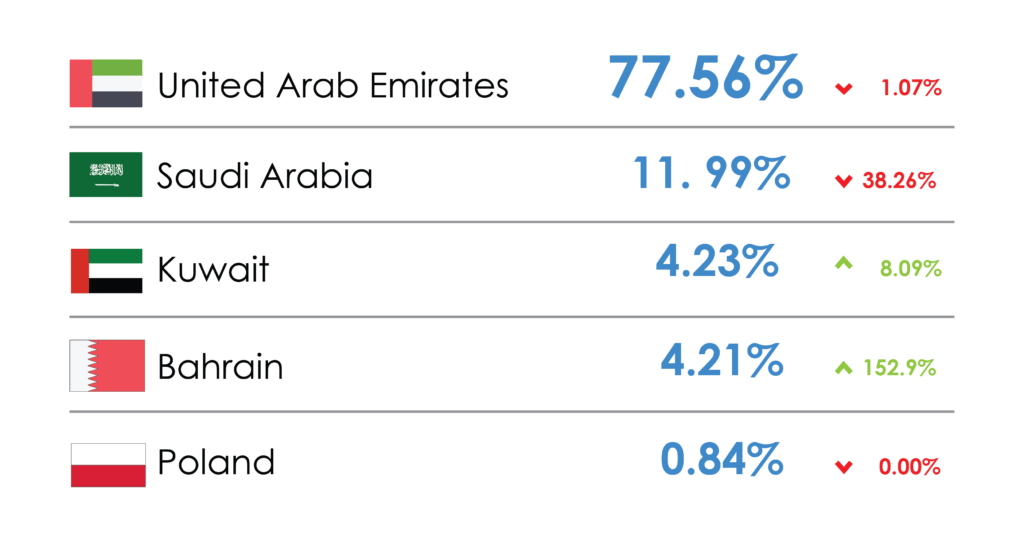 Here, you could see that the majority of traction is taking place in the UAE. The other markets are far behind. Now, it is not difficult to guess that the UAE market is all steam. Are you then going to plunge into this market? Or are you going to choose a less competitive market? Of course, these are not stand-alone decisions but knowing which markets are hot and which are not helps you in making this decision. For example, Saudi Arabia has a larger population base than the UAE. If your offering is low ticket and could appeal to a wider customer base, Saudi Arabia could offer you a better market than the UAE.
Competitors' Organic and Inorganic Efforts
With intensifying competition to grab customer attention on various digital platforms, eCommerce brands do not mind taking the paid promotion route. The inorganic strategies are effective in highly competitive zones. For instance, if you are an eCommerce brand dealing in perfumes in the UAE, organic tactics would not be very effective. But at the same time, if you are catering to a niche segment, say premium-quality affordable perfumes for office goers, you could still have an impressive outreach with organic efforts. See the visual below to see the split up of the organic and paid campaigns of a group of competing eCommerce brands.
Pic 5:
Top-searched competing products
As an eCommerce brand, you should always remain aware of the products that are intensely searched by customer audiences on digital platforms. Searching for a product may not necessarily lead to a purchase. But combined with other analytical insights, you get a decent understanding of the demand for various products in a given market. If you see the visual below Pic: 6, you could see that a particular highlighter is the most-searched product of a particular brand. This is followed by other beauty products along with their desired quantity-based packaging sizes. If you happen to be a beauty and personal care product brand, do any of your products compete here? If you are, you would be competing against these products for online searchability and visibility. If customers are looking for these products, it is worthwhile for you to assess the pros and cons of these products. Ecommerce market intelligence will not only help you in digital marketing but also in product development and determining the desired packaging sizes.
Pic 6: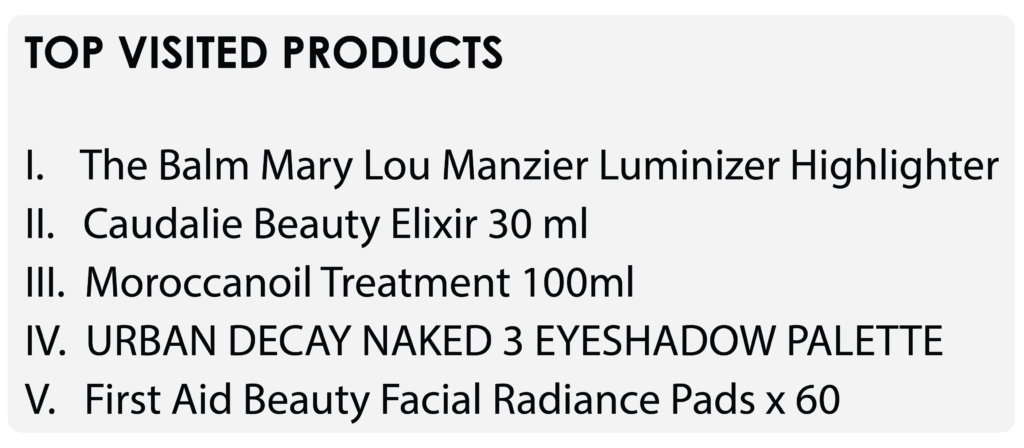 Competitors' social media presence
As social media is becoming a mainstream channel of mass communication, it provides a window for the eCommerce brands to connect and communicate with their digital audiences. This could be in the form of on-page advertising, influencer marketing, customer support, shopping platform, back-linking, recruitment, etc. It is a wide-open field out there to creatively and objectively market and manage a brand. With such possibilities, it becomes pertinent for eCommerce brands to assess how their competitors are leveraging social media in the management and development of business. For instance, if you are a sports footwear brand targeting some of the market regions of South Africa, knowing for what business reasons your direct competitors are using social media platforms could be vital information for you. Is it only for promoting their brands? Are they offering the option of selling from their social media handles? All these and other related questions could help you make good use of having a social media presence in relevant ways.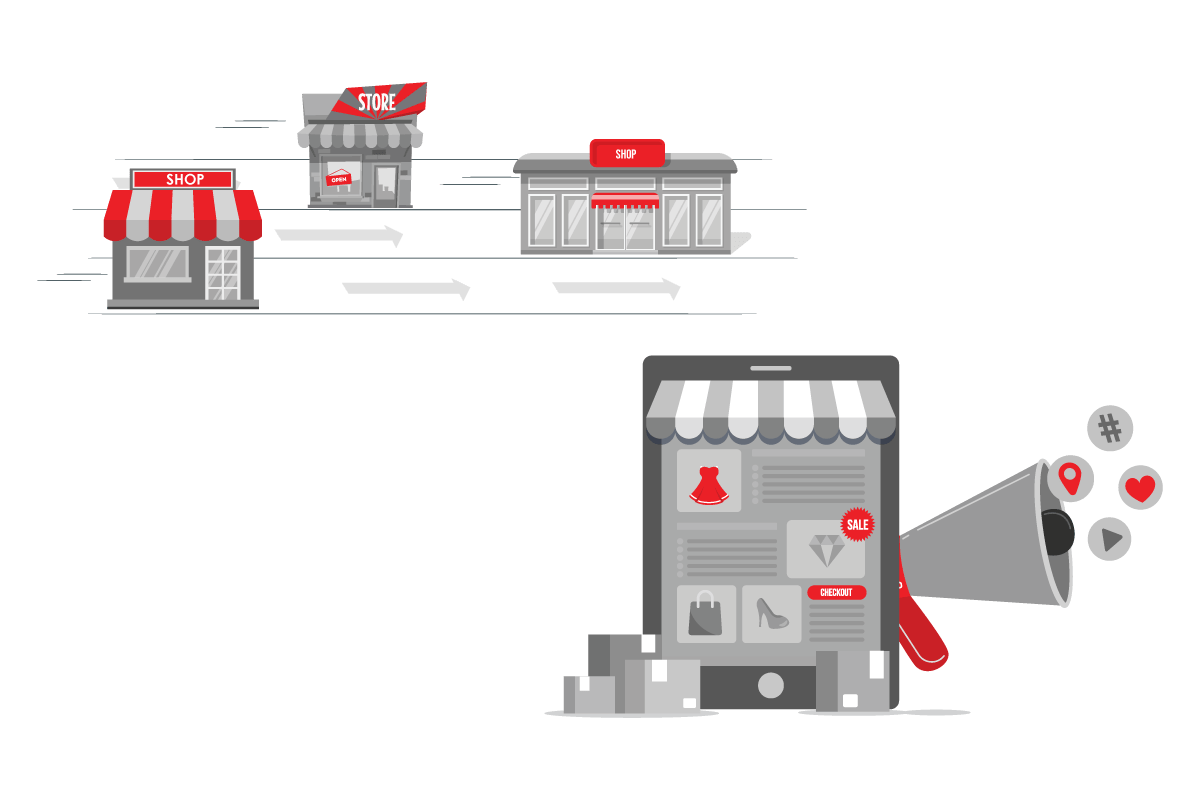 Payment Flexibilities Offered by Competitors
The payment methods offered by your competitors is something that should be readily replicated. This is a plain, straightforward advantage to customers. Nowadays it is not difficult to have in place multiple payment methods. There may be applicable regulatory norms to be followed. If you are delivering internationally, you will have to comply with the regulatory norms of the countries involved. You will also need to check which payment methods are popular region-wise. Ecommerce competitor research gives you a clear view of the payment methods you should consider.
Delivery Outreach of Competitors
Some eCommerce brands deliver internationally. Some international brands establish subsidiaries in other countries. Some are domestic brands. Some deliver only locally within a state. Depending on who you compete with and what markets you target is a determining factor of your delivery network coverage. If you compete with a brand that delivers across the country, your delivery chain must eventually develop that kind of outreach. If your competitors have limited delivery coverage, you stand a chance to capture a larger market share at the domestic level. Assessing the delivery of your competitors helps you adopt a better competitive stance.
UGC and Reviews on Competitors' Products
UGC stands for User Generated Content. To enhance traction with audience and algorithms, social media handles of eCommerce brands encourage their followers to create content. For instance, giveaways are one of the most common tactics for creating UGC. Here, followers are asked to tag their friends, post a comment, use particular hashtags, etc. to become eligible for the giveaway prizes. These activities shoot up the popularity of the social media pages and enhance the pages' visibility to a wider audience. Knowing how your competitors are creating UGC could help you come up with better ideas for the same to achieve better results.
A far more direct approach is analysing customer reviews on competitors' products. Products with high ratings and a high number of raters almost always draw in new and repeat customers. How customers are rating the products of your competitors? Do the reviews seem authentic? Which products have maximum reviews? There could be hardly anything more genuine than customer ratings and reviews. This is needless to say that eCommerce brands do try to hide poor reviews and ratings. For YRC's eCommerce market research experts, it is not difficult to draw the line and bring out the relevant insights.
No one could tell you what is going on in a market better than your competitors. This is not to villainize other players. You are also a competitor to others. The point is that their activities and actions are telling a story. Are you listening? Are you contemplating carrying out an eCommerce competitor research for your eCommerce venture? With experience in market research spanning over 10 years, Your Retail Coach has the team, the talent, and the contemporary eCommerce market research tools to guide you right through this.
Found this blog worth Reading?
If you liked this blog, please visit our blog section and YouTube channel for regular updates and insights on the retail and eCommerce industry.