Supermarket Layout / Grocery Store Layout Design Services
Science behind Grocery Store Layout:
Layout design plays a crucial role in the success of a grocery store. A well-planned layout can increase sales and customer satisfaction by making it easier for customers to find what they need and encouraging impulse purchases. A poorly designed layout, on the other hand, can lead to customer frustration, lower sales, and decreased profitability. Therefore, careful consideration and planning of super market layout design is essential for a grocery store's success. Lets understand the science behind a grocery store layout and how its effects the psychology of buyer:
1. Focal Point & VM:
Visual merchandising involves using visual elements such as signage, product placement, lighting, and color to create an attractive and engaging environment. A visually appealing store is more likely to catch the eye of passersby and encourage them to come inside. For example, well-designed window displays can create curiosity and draw customers inside the store.
Creating a focal point involves highlighting a specific area or product in the store to draw attention and create interest. This can be done through signage, lighting, or product placement. For example, placing a striking display of new or popular products in a prominent location can create interest and encourage customers to explore the store further.
2. Display: Eye Level/ FIFO Display:
Eye level displays are items that are placed at the customer's eye level. This is considered prime real estate in the store, as it is the most visible and easily accessible location. Products placed at eye level tend to sell better than those placed higher or lower, as they are more likely to catch the customer's attention.
FIFO displays, on the other hand, are products that are arranged in such a way that the oldest products are used or sold first. This ensures that products are always fresh and minimizes the risk of waste or spoilage. FIFO displays are especially important for perishable items such as dairy, meat, and produce.
3. In-Store Technology:
In-store technology is becoming increasingly important in grocery store design layout, providing a range of benefits for both retailers and customers. Here are a few examples of in-store technology commonly used in grocery stores:
a. Self-checkout systems: These allow customers to scan and pay for their items without the need for a cashier, reducing wait times and improving the shopping experience.
b. Electronic shelf labels: These display product information and pricing in real-time, making it easier for retailers to update prices and promotions and reducing the need for manual labor.
c. Mobile apps: These can be used to provide customers with in-store maps, personalized offers, and loyalty rewards, improving the shopping experience and increasing customer engagement.
d. Smart carts: These are equipped with technology that allows customers to scan items as they shop, making checkout faster and more convenient.
e. AI-powered cameras: These can be used to monitor inventory levels, detect out-of-stock items, and analyze customer behavior, helping retailers optimize their store layouts and improve inventory management.
In summary, in-store technology is a growing trend in grocery store design layout plan, offering a range of benefits for both retailers and customers. By leveraging technology, retailers can improve the shopping experience, reduce costs, and increase customer satisfaction.
4. Lights for vibes:
In-store lighting is a crucial element in creating an inviting and pleasant shopping environment. The use of warm, soft lighting can create a cozy atmosphere, while bright and vibrant lighting can create energy and excitement. Effective lighting can enhance the overall supermarket design plan and improve the customer experience.
5. Layout Type and its effect on sales:
There are several layout types used in grocery shops, each with its own advantages and disadvantages. Listing down few types of layout:
a. Grid layout: This features supermarket aisle layout of shelving arranged in a grid-like pattern, allowing for easy navigation and efficient use of space.
b. Racetrack layout: This layout features a circular path around the store, with aisles branching off the main path. This can create a sense of exploration and encourage customers to explore more of the store.
c. Free-flow layout: This layout features a more open supermarket floor plan with dimensions, displays and product placement guiding customers through the store. This can create a more engaging and visually interesting shopping experience.
d. Fixed Path Layout: In a grocery store with a fixed path layout, the aisles and shelves are arranged in a predetermined order. The layout is designed to guide customers through the store in a specific way, often starting with fresh produce and ending with the checkout.
e. Hybrid layout:This layout combines elements of multiple layouts to create a unique grocery shopping behaviour and experience that meets the needs of a specific store and its customers.
There are several grocery layout design types used in supermarkets, each with its own strengths and weaknesses. The choice of layout should depend on the specific needs of the store and its customers.
6. Data-driven plonogram:
Data-driven planogram planning is a process that uses data analysis to optimize the placement of products in a store. By analyzing customer behavior, sales data, and other factors, retailers can create a planogram that maximizes sales and customer satisfaction. This approach can lead to increased efficiency and profitability in the store.
How YRC Can Help To Design Supermarket Layout?
1. Supermarket Layout Strategy: Designing a successful grocery store layout also called kirana store layout, requires a well-defined strategy that takes into account numerous factors, such as the requirements of the target group, brand positioning, competitors' grocery layout gaps, convenience of shoppers, reduction of pilferage, positioning of high value goods, reduction of manpower costs, special product categories, focal point, store facade, and visibility. YRC experts prioritize giving shoppers a convenient and digitally enhanced experience to ensure that they keep coming back to the store.
2. Supermarket Functional Layout design & Conceptualization: When it comes to designing a successful grocery store and developing supermarket design concept, there are over 300+ parameters that need to be taken into consideration. These parameters are grouped into major clusters, such as security and safety, convenience of shoppers and staff, cross-promotion of categories, focal points and memory hooks, flow of goods and walk-in shoppers, ease of cleanliness, COVID precautions, and emergency situation handling.
YRC supermarket layout design experts understand the importance of considering all these parameters while designing a functional and efficient super market floor plan, grocery store map layouts, and grocery store layout design. Overall, YRC's attention to these crucial parameters ensures that their clients receive a highly optimized and functional grocery store layout design that can help drive success and profitability.
3. Grocery shop interior design: After finalizing the functional layout, focus shifts to store aesthetics. Brand positioning and target customer group are primary considerations for interior design
YRC Interior Design Experts work on the following scope:
1. Furniture/ Fixture Layout
2. HVAC Layout
3. Plumbing Layout
4. Electrical Layout
5. Civil Layout
6. Interior Grocery Design Layout
7. 3D designs
4. Furniture & Fixtures Finalization: Designing a grocery store floor plan requires the collaboration of YRC Supermarket Business Experts and YRC store design experts to ensure that each product category is stored in the appropriate racking system for optimal storage conditions. This necessitates a fusion of business and design knowledge to develop a grocery design layout, emphasizing the importance of collaboration between the two fields in furniture and fixture planning.
5. Tech Enabled Store Design Consulting: To optimize customer experience and operational efficiency in grocery store layout design, it is crucial to consider incorporating technological advancements. Here are some examples of such advancements:
Electronic Shelf Labels: These displays convey information about products, pricing, and promotions electronically, mitigating the need for manual updates.
Mobile Apps: Grocery stores can develop mobile apps that allow customers to create shopping lists, view tailored promotions, and navigate the store using indoor mapping technology.
Self-Checkout Systems: Automated checkout systems reduce wait times and augment efficiency during peak hours.
Smart Carts and Baskets: Carts and baskets embedded with technology provide customers with product information, promotions, and personalized recommendations.
Beacons: Bluetooth-enabled devices that interact with customers' smartphones, beacons offer location-specific offers and suggestions to customers as they move throughout the store.
Omnichannel Systems such as Buy Online Pickup In-Store or Buy In-Store delivery at home require special consideration for home deliveries and customer pick-up. It is crucial to plan ahead, even if the implementation is not immediate.
YRC's team of experts assesses the most appropriate technology to integrate with your grocery store and assists in identifying suitable partners to execute these implementations.
To conclude, YRC's grocery consultants have played a pivotal role in assisting countless grocery brands in achieving their goal of launching thriving stores through their professional layout designing services. YRC's supermarket consultants are renowned for their ability to assist their clients in developing latest supermarket design trends that outshine competitors in an industry characterized by intense competition. If you're considering launching your own grocery store contact our experts to explore YRC's supermarket layout designing services and create a long-term business that is optimized for success.
Few Reference Photos of Supermarket Store Layouts and Grocery Shop Interior Design Ideas:
Frozen Section: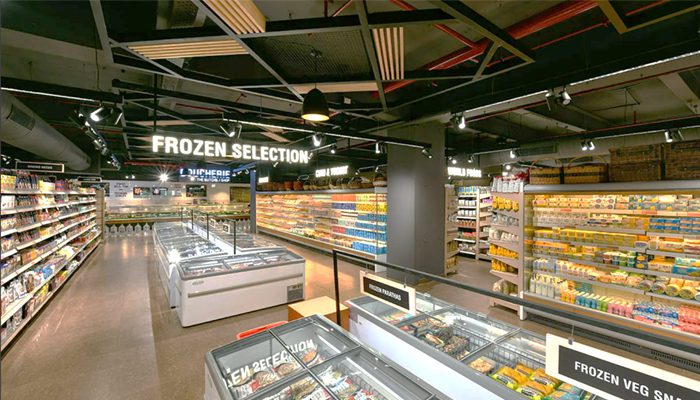 Salad Station: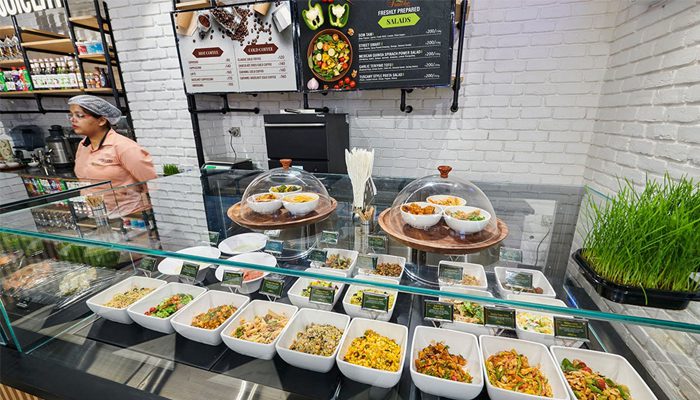 Wide Isle for Free Shopping:

Fresh Guacamole Counter: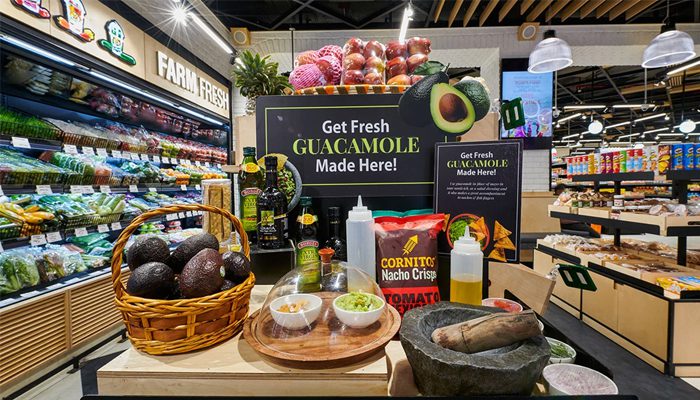 Juicery Station: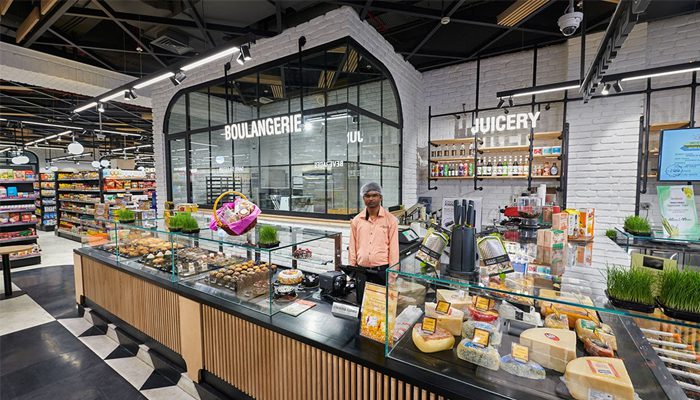 Fresh Meat: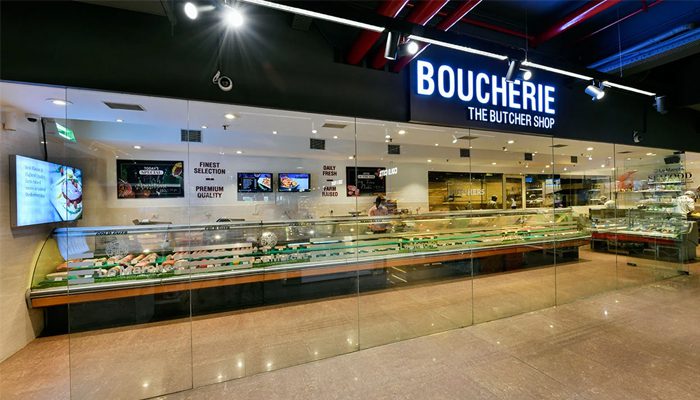 Special Category: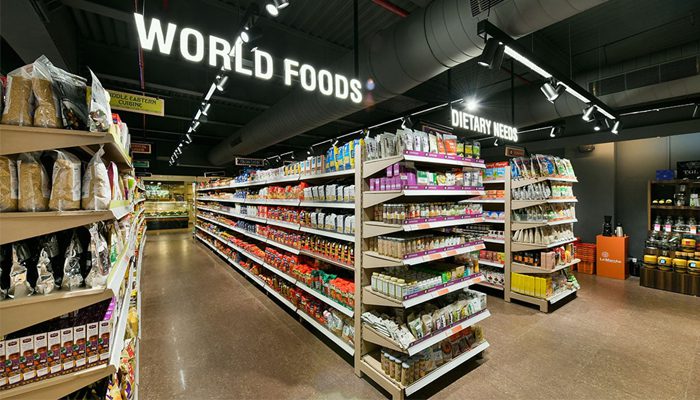 Homeware Section: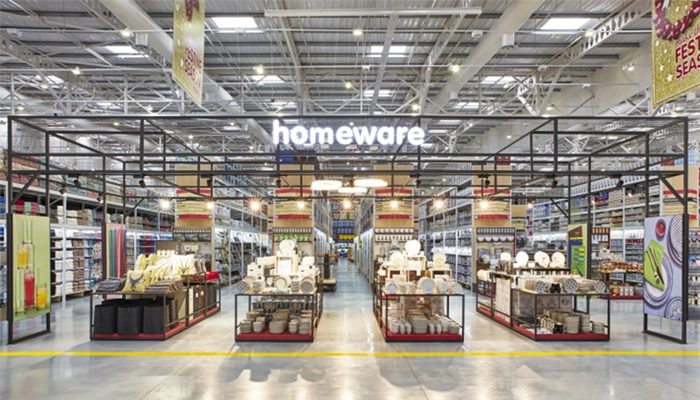 In-Store Cafe: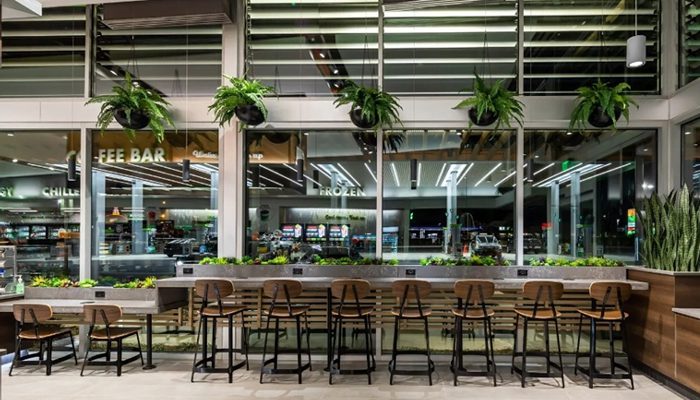 Bakery Section:
What is the objective of supermarket layout
A successful supermarket layout design shall help to achieve 04 major objectives:
Increase Sales (Promote Cross-selling/ Up-selling/ Impulse Buying)

Reduce Pilferage

Easy replenishment

Enhance Customer Experience
How to design a supermarket layout/ grocery store layout
As per YRC supermarket design consultants, there is a 10 steps process to design an efficient and optimized grocery store layout as follows:
Competitor Research

Finalization of Business Model

Brand Positioning

Product Category Finalization

Target Group Research/ Catchment Research

Business Plan – Budgeting

Functional Layout / Layout Map

Store Interior Layout

Emergency Evacuation Plan

3D retail store design & Finalization
To know more, get it touch with YRC Supermarket design experts today.
What is the typical layout of a grocery store?
A layout of the supermarket differntiates it from being an go-to shopping destination or just another store nearby. Typical layout of supermarket are Grid Style Layouts allowing easy navigation for shoppers and efficient use of space. Though there are various layout types which can be considered as per the product categories and size of the store. YRC Experts recommends to initially work on the supermarket functional layout design & conceptualization before finalization of interior design layout.
Things to consider while designing grocery store layout strategy?
A well-defined strategy is crucial for designing a successful supermarket layout. To achieve this, several factors must be considered, including the needs and preferences of the target customer base, the desired brand positioning, competitor layout gaps, convenience for shoppers, pilferage reduction, high-value goods positioning, reduction of manpower costs, positioning of special product categories, focal point, store façade, visibility, and other critical factors.
How can I improve my supermarket layout?
Improving a supermarket layout requires careful consideration of over 300 parameters, grouped into major clusters such as security and safety, convenience of shoppers and staff, cross-promotion of categories, focal points and memory hooks, flow of goods and walk-in shoppers, ease of cleanliness, COVID precautions, and emergency situation handling.
YRC supermarket layout design experts take into account all these parameters when designing a grocery store layout. By doing so, they ensure that the supermarket is optimized for both customers and staff. This approach can ultimately improve the shopping experience and drive sales.
How to do electrical lighting layout of supermarket?
Designing an electrical lighting layout for a supermarket involves several steps:
Determine lighting requirements based on store size, layout, and merchandise

Choose energy-efficient and long-lasting LED lighting fixtures

Strategically place fixtures for even illumination throughout the store

Create a lighting plan that details the placement and purpose of each fixture

Consider lighting controls such as occupancy sensors or timers to save energy

Work with a licensed electrician for safe installation in compliance with building codes and regulations.
Get Advice for Supermarket / Grocery Store Layout Design Services
Luxury retail is an exclusive vertical. Premium customer support, impeccable product quality, robust distribution and delivery, and an irrefutable brand positioning leave no room for ordinary ways of doing business in luxury retail. From planning to operations,...
read more