Significance of having a Robust Supply Chain
It was only a few years back that the implications of having robust supply chains were demonstrated during the Covid-19 pandemic. Governments and organisations with robust supply chains could distribute essentials like food, medicines, and water without major hiccups. Was it a chance? Was there conscious planning? How some organisations could adapt and the majority of others could not? Planning and strategic changes provide half the answer; the other half is the operational framework i.e. in this case, the supply chains.
As supply chain consultants, we always ask our clients to use the year 2020 as a reference to gauge the operational preparedness of their supply chains. Some of the pertinent areas they should be reassessing are:
Broad challenges faced during the lockdown and curfews
Difficulties in getting stocks on time
Issues related to storage, distribution, and delivery
What worked, what did not work
Is your business prepared to deal with such shocks in the future? Do you have the strategies accompanied by the necessary operational planning? What is the current state of the supply chain operations planning of your organisation?
What makes a Supply Chain Robust and Reliable?
Supplier Compatibility
'The entities involved in the supply chain play vital roles in the value chain as well. It is important for businesses to keep a tab on the compatibility of these entities with their strategic and operational requirements. And to do that, businesses must periodically monitor the performance and capabilities of their vendors and suppliers on the parameters of current requirements as well as future readiness for smooth supply chain operations. The solution for this is to plan and implement a deliberate process for the selection of suppliers and periodical performance audits.
Logistical Flexibility
Logistics is an important component of supply chains and deals with the transportation of inventory from one place to another. If logistics stops, the supply chain also stops. There are many reasons why logistical movement slows down, delays, or comes to a complete halt. These reasons could be changes in business strategies, change(s) by/of logistical service providers, bad weather, strikes by associations, regulatory changes, etc. By incorporating the element of flexibility, businesses can lessen the risk of exposure to such logistical risks. The workaround is to assess the possibility of such events happening in the future, develop backup strategies, and incorporate the necessary flexibilities in the operations planning.
Storage Capabilities
The success of the logistical function is also influenced by storage capabilities – whether these capabilities are owned or hired. For instance, if the required storing capabilities are not accurately measured, there is nothing the purchase or the logistics department could do to address the problem in the event of unavailability of space in warehouses and fulfilment hubs. For a supply chain to have strategic significance, planning and decisions related to storing capabilities like volume, location, variety, security, and safety assumes high importance.
Use of Technology – Automation & Digitisation
The use of digitisation and automation tools and technologies in supply chain operations helps businesses in numerous ways. It helps redirect human involvement from repetitive and tedious tasks towards more relevant areas like planning and empathy. Optimising human involvement via digitisation and automation also decreases the exposure to slip-ups, errors, and omissions.
In supply chains, transparency and ease of access to process information are necessary. This involves substantial efforts in the form of planning and building rules and systems for communication and connectivity among all concerned teams and entities in supply chains. Automation and digitisation of supply chain operations make this job easier. Every unit of data and information that goes into the servers from all corners of a supply chain becomes a part of the bigger software ecosystem. This way the information that is required to be available becomes available to all concerned task owners in all processes in almost real-time. Another benefit of automation and digitisation of supply chain operations is the availability of data for analytics purposes.
Standardisation of Supply Chain Processes
Process standardisation is the principle and practice of upholding the same sets of operational procedures for the same processes and operations in all places of business operations. For instance, two warehouses/distribution hubs must not maintain different standards for quality control for the same product category. There may be exceptions but as a tenet, processes must not radically differ within one ecosystem.
Process standardisation in supply chains provides uniformity and consistency in the handling of inventory and inventory-related data within an organisation. Some of the benefits of standardisation of supply chain processes are listed below.
Ease in the observance to policies and processes governing supply chain operations
Aids in maintaining brand QA and QC standards
Establishes a common framework for proper handling, storage, and transportation
Reduces unplanned checks and control
Provides a standardised scale for adjustment of timelines for order fulfilment
Quality Assurance (QA) & Quality Control (QC)
Both Quality Assurance (QA) & Quality Control (QC) are integral elements of supply chain management and operations. At every stage in a supply chain journey, goods must go through the designated QA and QC screens. That is the ideal or model picture. The presence of the necessary QA and QC measures at every stage is one of the hallmarks of a good and reliable supply chain. If any product lot misses the quality check that should have been conducted at a given stage in the supply chain, the chances of detecting that lot again is leaving things to luck. Subsequent stages in the supply chain may or may not be able to detect that lot. Well-defined QA and QC processes help prevent such occurrences.
Demarcated Roles and Responsibilities
Every team and individual engaged in a supply chain function is confidently aware of the standards and performance expected of them when their roles and responsibilities are clearly established and communicated. With an unambiguous understanding of roles, duties, and responsibilities at all levels, performance of and coordination among individuals, teams, and departments significantly improves in organisations. The scope of disputes is minimised and the focus remains on the work. And job descriptions are not enough to tell someone what their ground responsibilities are. These should be included in process definitions.
Operational Reasons for Failure of Supply Chains
Slip-ups in the selection of vendors and suppliers
No organisation should engage or be associated with suppliers that do not align with their business requirements. There could be many reasons why some suppliers may not be compatible with a business enterprise while some others are. It could be because of requirement mismatch in the areas of commercial/financial aspects, quality of products, logistics, legal, etc. If there is no process, businesses are not able to filter and select the right suppliers. This makes it essential that the right factors are duly taken into consideration in the selection of suppliers and vendors.
Lack of well-defined processes
One of the main reasons for a waning supply chain is the lack of well-defined processes for carrying out supply chain operations. Having well-defined processes (supply chain SOPs) help businesses implement their supply chain plans and strategies with higher precision. Supply chain SOPs also serve as the groundwork for supply chain automation. It is at the time when businesses begin thinking of supply chain automation, do they realise the significance of being process-oriented with SOPs for supply chain operations. Faltering supply chain operations is also another point of that realisation.
Misfit technology (software)
Experienced supply chain SOP consultants would agree many organisations continue with their misfit automation software for supply chain operations. And the corrective measures and adjustments are left as the responsibility of the concerned process owners. The purpose of automation is defeated when any incorporated technology is not accurately helping an organisation achieve its operational standards. The true goals of automation are to do more complex and massive tasks, speed up operations, facilitate coordination, improve operational accuracy, etc. And if humans have to intervene in unplanned methods, it belittles the other benefits offered by digitisation and automation.
Lack of clarity in roles
Maintaining clarity and transparency in job descriptions, roles, and responsibilities is as important in supply chain management as it is for any other enterprise function. Failing to achieve this has many unwanted consequences on supply chain operations and management:
Slow and haphazard operations
Overlapping of roles and responsibilities
Failure of reporting and supervising mechanism
Pointless and avoidable meetings
Poor information-sharing between processes
Inability to meet deadlines
Chances of failure to comply with QA and QC standards
Lack of Process Documentation
When operations are not properly drafted and documented, there will always be obscurity about carrying out the processes and missing operational details. This leads to spending additional efforts and resources for getting things done which could have been planned in the first place. Some of the consequences of not having documented processes on supply chains are:
No reference to look up to for operational standards and procedural details
Errors and variations in process output
Sloppy adherence to logistical and delivery timelines
Greater need for manual supervision and cross-checking
Extended working hours
Lack of Process Standardisation
Having different processes for the same activity is an unorganised approach. It is neither easy for employees nor for business associates to have to follow different or undefined procedures for the same task. It also affects the customer shopping journey and customer experience. Such variations hinder the efforts of creating a cohesive and consistent brand perception. And one of the reasons for this is the lack of standardisation or consistency in carrying out business processes.
How YRC can help
YRC is a retail and eCommerce business consulting enterprise specialising in process-SOP solutions. In supply chain consulting, we offer a wide range of solutions including SOP development and implementation assistance. Our service objective here is to deliver operational excellence and process orientation via SOPs. The service design and delivery are carried out by a team of supply chain process consultants. Here is a snap of what we do and how we do it.
Evaluation of the As-Is Processes and Business Practices
The present supply chain processes and their capabilities are mapped and defined. In doing so, the first goal is to optimise the need for change. The second goal is to make it convenient to identify the areas of process improvisations. The existing business practices and process resource necessities are laid out. Before moving to improvisations and adjustments, it is imperative to consider processes in their prevailing states.
Defining the new Process Objectives
Here, we define the new and improvised process objectives. A detailed analysis of the strategic requirements is conducted to incorporate the new operational prerogatives and standards into the new process definitions.
Process Gap Analysis & Development of To-Be Processes
In process gap analysis, we carry out a comprehensive analysis of the deviations that exist between the as-is processes and the present business practices as against the freshly-identified process objectives and requirements.
In the next step, our team develops the to-be processes using SOPs (Standard Operating Procedures). The information and insights derived from process gap analysis are crucial for writing new process definitions.
Assistance in Process Automation and Digitisation
We offer expert and systematic assistance in identifying and implementing best-fit supply chain automation and digitisation solutions. Our team of SCM consultants scrutinises the new processes on the parameters of the IT landscape and presents the most suitable solutions. The knowledge and skill sets required to use these software/automation platforms are also presented.
To know more about our supply chain SOP consulting services and how we can help your business with supply chain SOPs, please drop us a message and we will reach out to you.
What are the features of a robust supply chain in business? How do you build a strong and agile supply chain? What makes a supply chain resilient?
Given below are the top 7 desirable features in a supply chain:
           

Agility to adapt to small and big changes

           

Flexibility in the logistics and distribution

           

Ability to expand or contract storage capabilities with ease

           

Powered by automation and digitisation

           

Process Documentation and Standardisation

           

Deployment of QA and QC checks

           

Defined Roles and Responsibilities
What causes failure in supply chain management? What are the main problems of/in supply chain? What are the challenges/problems in supply chain management? What is the root cause or reason for crisis in supply chain?
Here are the top 6 operational reasons for the failure of business supply chains:
       

Slip-ups in the selection of vendors and suppliers

       

Lack of well-defined processes

       

Misfit technology (software)

       

Lack of clarity in roles

       

Lack of Process Documentation

       

Lack of Process Standardisation
Benefits of Standard Operating Procedures (SOPs)
Get Advice for Supply Chain SOPs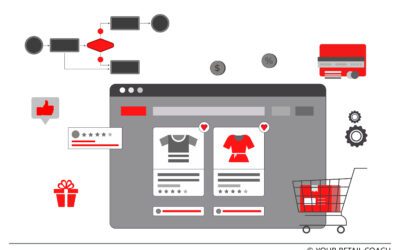 Fashion, ECommerce, and SOPs went to a bar……. If you are planning to start an online fashion business, you must be planning for a lot of things - business modelling, development of the business plan, technology, manpower, suppliers, etc. And if you have not already,...
read more