Dairy & Milk Industry Business Consulting
Dairy & Milk Industry Business Consulting
Dairy & Milk Industry
Dairy is an essential part of our life. Sometimes it is used as a product of final consumption or sometimes as an ingredient or raw input to produce another dairy product. It represents a group of commodities used everywhere in the world. This explains the massive size of the dairy industry at global, domestic and local levels making it a high-demand product category in any given market or region.
Coming to the business space, the collective power of local brands is emerging to be a big competitive threat to the big brands. These smaller brands are able to better comprehend customer behaviour at their respective local levels and thus, are able to better address customer needs and expectations from a dairy brand. Ecommerce, omnichannel and hybrid business models have significantly aided businesses in attracting the urban customer base. With the factor of ease of doing business getting prominence in the developing economies, market entry and market capture have become even easier for businesses doing their bit right.
As new business models in the retail dairy sector are more emphasised on urban markets by leveraging eCommerce, it has become critical for businesses to reassess and redefine their understanding of the urban customer base living in cities and metros. Customer and user experience have become as important as product quality. And with increasing competition, building brand loyalty remains a prerogative.
Challenges in the Dairy and Milk Industry with a focus on eCommerce
Inability to Fulfil Orders due to Operational Problems
Most of the challenges for retail dairy brands emanate from their operations. Customers often complain of delayed deliveries, order rescheduling, incorrect updates about order fulfilment, imposing of additional delivery charges for no fault of customers, etc. These are the broad indicators businesses cannot afford to ignore as something temporary. If these complaints are coming to the fore, it means that poor operations have begun to hit customer experience. However, poor order fulfilment is often traced back to unchecked issues with the eCommerce platform, inaccurate demand forecasting, absence of informed purchase planning, undefined working systems, poor process design, supplier and vendor management, etc.
Non-transparency and Incorrect Updates about Delivery
A frustrating experience for eCommerce customers is not being informed about their account and order status. The problem could be IT-related or incorrect or false manual updating. However sincere the mistake might be, it is appearing as non-transparency to customers. It is a terrible thing to happen in customer experience. Once statuses are not reflected as customers would expect, it leaves a huge window of doubt and confusion in their minds. And if it goes unaddressed for too long, the brand will take the beating. In contrast to positive word of mouth marketing, dissatisfied customers are capable of repelling potential customers.
Payment and Refund Issues
When customers make payments for their orders or subscriptions, they expect that the transaction process happening at the payment gateway will be easy and successful at the first attempt. That is the standard nowadays. Anything less than that would be a source of dissatisfaction to customers. There could be many reasons for failure or deviation in the online payment process. But that should not include poor back-end technical and UX issues. Also, payments are a sensitive issue. Firstly, retail dairy businesses should be careful about the correctness of their billing. Secondly, they should not force customers to place the refunds in the app wallet.
Poor Customer Support
Things do go wrong sometimes and it is normal. But it is important that customers are listened to whether it is a complaint or feedback. That is basic and calls for a customer support system that remains active and responsive. Ironically, even many established businesses fail to see the significance of it. In phone support, customers should not be having a harrowing time reaching to hear a voice on the other end. In text support also, customers often are made to go through a series of 'tap here and tap there' to be able to even start typing their issue. And some dairy brands continue to remain insensitive to the essence of customer care. Customer care and support is not just the exchange of information but sharing of empathy to the professionally possible extent. A major issue in this regard is the standard replies and responses sent by customer support agents over chats. That takes away the aspect of personalization from communication.
Quality of Products
Dairy products have a short shelf life. They are meant for early consumption or refrigeration. It is a challenge for eCommerce dairy brands to implement comprehensive QA measures and QC processes for routine operations. But that does lessen the need for maintaining the necessary quality standards. The first requirement is to have a professional and qualified team for product quality management.
Many businesses are too eager to quickly build a network of suppliers and expand their operational areas. That stings back bad in no time. Businesses need to examine the conditions of the production or farming areas, the levels of cleanliness and hygiene maintained, the use of scientifically proven methods and processes, etc. Maintaining the quality standards should not be left to the promise of mouth alone but also be made bound by relevant agreements.
Product Returns
Returns are a major issue in retail dairy. Given the shorter shelf life of dairy products, product returns straight away register as sunken inventory. Because of unfavourable weather conditions, storage and logistical mishandling, or faulty produce, it is common for many raw or semi-processed dairy products to become unusable for consumption or further use. Again, the emphasis goes back to quality assurance and quality control, strict adherence to SOPs, and the use of scientific tools and methods.
Poor Purchase Planning
Many retail dairy businesses struggle when it comes to accuracy in demand forecasting. In the absence of accurate demand estimates, purchase planning becomes an uphill task. Then there is spoilage of inventory that often goes unplanned and becomes a burden on the running order volumes. These aspects are uncontrollable in a running state of operations. Therefore, dairy businesses need to take demand forecasting seriously and take into account any threat in the supply chain that could put stress on their ability to successfully and consistently fulfil customer orders.
How YRC can help: in a glimpse
Having more than eight-plus years of experience in retail and eCommerce, we cater to more than twenty verticals. We offer a wide range of dairy & milk industry business consulting services to retail dairy brands across channels. Our team comprises experienced professionals from diversified backgrounds. Our dairy & milk industry business consultants go beyond addressing the known and manageable challenges. We help clients build a robust and competitive business enterprise. Here's a glimpse of our dairy business consulting services.
Market Research
In market research, we help clients gain better market insights. The inputs help them in planning, strategy formulation, and decision-making. The areas where our market analysis proves helpful to clients include identification of market segments, estimation of market size, assessment of competition, location feasibility study, demand and price analysis, etc. Based on the studies and analyses, our team of dairy & milk industry business consulting experts also provide recommendations and CTAs unique to the business of each client.
Business Model Development
In business model development, we help clients develop a strong, UVP based business model. A unique value helps in customer acquisition and customer retention. But with an increase in competition and homogeneity of products and services, it is no longer easy to create a UVP. In delivering our online dairy business consulting services, our teams go to the details in understanding the strengths and weaknesses of clients in their respective markets vis-à-vis that of the competitors. After all the due considerations are taken into account and the necessary questions have been answered, our team of dairy & milk industry business consultants start working on business model development. We also define and map the network of the value chain and internal capabilities required to deliver the intended offering.
CX Strategy and ECommerce Personalization
Customer experience is a deciding factor for success in retail and eCommerce. Even a minor deviation in the core services could create a spiralling negative effect on the overall customer experience. In this age of the internet, social media, and information, the proliferation of poor experiences of customers does not take much time to come to public attention in large. And on top of that, some businesses resort to grey tactics like hiding critical reviews or trying to promote inauthentic views. Instead, businesses should focus on building systems and strategies that live up to the customers' expectations of customers in their shopping journey.
At YRC, our team of dairy & milk industry business consulting experts first seek to understand and establish the priorities and expectations of the customers. Then, we define the CX goals and strategies to achieve them. We map customer experience covering all the important physical and digital touchpoints that customers go through. This helps in formulating strong CX strategies that are based on practical realities and not just fancy visioning.
SOP Development
Robust operational planning is a necessity for all organizations. From purchase decisions to home delivery of orders, every process and operation involved need to be identified, defined and mapped in definite terms. And the operational roadmaps also have to be designed as per the requirements of the business model and the functional strategies.
In SOP development, which is one of our flagship services, we help clients build a strong operational platform for carrying out their business operations. Our bigger goal in SOP development and operational planning is to help clients become process-oriented enterprises with optimal exposure to human-induced errors and mistakes.
Financial Assessments
Financial projections and planning are two core requirements to test the validity of a business idea or project. In business plan development, our team of dairy & milk industry business consultants carry out a detailed assessment of all the required financial aspects that go into starting and managing a retail dairy brand. We follow a methodical, comprehensive, and rigorous set of procedures and standards in preparing these financial projections and assessments. If the financial perspectives are not in favour, we ask clients to rework their business ideas and business models. The goal is to ensure that clients do not embark on a project that is not financially attractive or feasible.
Organizational Structure and Design
The style and grandeur of a building or a house would be a hollow attraction if the architecture is not sound. Organization structure and design to a business enterprise is what architecture is to a building. The organization represents the internal structure of a business enterprise in terms of roles and positions, departments and functions, formal communication routes, authority-responsibility relationships, teams and span of control, etc. Our team of dairy & milk industry business consultants and HR consulting experts offer professional assistance in conceptualizing and designing the required organizational framework for clients' business enterprise.
We are a boutique retail and eCommerce consulting firm. To know more about our dairy & milk industry business consulting services or if you have any queries for our expert consultants, drop us a message and we will be happy to get back to you.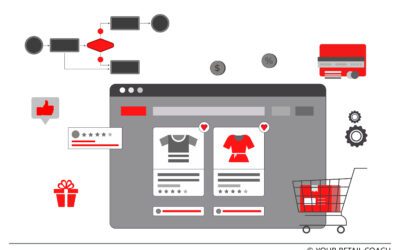 Fashion, ECommerce, and SOPs went to a bar……. If you are planning to start an online fashion business, you must be planning for a lot of things - business modelling, development of the business plan, technology, manpower, suppliers, etc. And if you have not already,...
read more