Interim Management for retail and eCommerce
Build your interim management team with our executive search and talent acquisition services.
Introduction to the essence of Interim Management
What is the meaning of interim management? Interim management, in limited words, refers to the concept of hiring a senior-level specialist or executive to accomplish a specific mission to a business enterprise or organisation. The role could involve more than one mission. With this understanding, it is not difficult to see how helpful the concept of interim management can be for a business or company that is struggling to cope with a tough situation or phase. The presence of the word 'interim' makes it abundantly clear that here we are not looking for a long-term hire but someone who could help accomplish specific business goals and objectives.
What is the meaning of an interim manager?  An interim executive is often one who bails a business out of a difficult situation or puts it in a favourable position. S/he is a problem solver and a specialist. Without generalising, in interim management, businesses hire specialists to address specific issues. Interim executives are hired as temporary positions. When their objectives are achieved, they move out. But sometimes businesses may also decide to retain them for the long term because of their proven performance and expertise.
But why do businesses choose an interim executive over a full-time executive? Sometimes internal expertise falls insufficient to tackle specific business issues and challenges. Sometimes businesses want external expertise but in a format that supports in-house working relationships. Sometimes they only want solutions to specific problems instead of an external entity interfering in other areas of business. So, interim management is a very mission-specific provision or strategy. What happens afterwards with the association is a different chapter.
Interim executives need not exist as interim executives.  Sometimes they may hold positions in other companies. And if it is permissible, they can also act as interim executives to another company. From business to business and situation to situation, the roles and liabilities of an interim executive may vary. And interim executives are not the same as management consultants. The interim executives become an integral part of the host business enterprise. Management consultants may provide the same support and guidance but their role is advisory by nature and defined by the limits put forward by clients. An interim executive has greater access to and control over execution and operations.
Situations that call for interim management in retail and eCommerce
Business Model Revamp
Business model is the foundation of why a business enterprise is able to sell its products and services and generate revenue. It comprises the UVP of what a business enterprise is offering to its customers. It maps the value chain and internal capabilities required to create and deliver the UVP. A good cobbler shop knows the possible problems customers face with their footwear. It knows the tools that will be required to solve those problems. It knows the expertise required to do the repair work. For customers, that cobbler is the solution for all the repair-related needs for their footwear. This constitutes the shop's business model. When this perception gets consistently broken, the shop begins to lose its credibility and customers. If the business model fails, the entire business fails.
In retail and eCommerce also, many brands and businesses often carry the burden of a faulty business model. Then they need someone who could see what is going wrong and fix it. Sometimes it is even difficult to figure out that something is wrong with the business model. This is where choosing the right interim executive comes in handy. It is not necessary that an interim executive always bails a business out of trouble. But the right resource brings in the right perspectives and insights to the table. With the right combination of the old and new, businesses get the vision of revamping their business models and bringing their business back to track in some old and some new ways.
Brand Rebuilding
Sometimes retail and eCommerce brands experience their brand perception getting tarnished for internal or external reasons. In such circumstances, it becomes necessary to make a comeback. It could be a startup or a 100-year old company. But much more than that, most businesses fail to create any brand perception at all. It could be hard for businesses and customers to distinguish one brand from another in a homogenous market.
Touch digital marketing, and we are in a whole new spectrum of events. Social media can be a messy variable. A company with a perfect product and service portfolio may still fail to pitch in with the right self-portrayal.
Branding experts are what is needed here. There are experienced executives who have excelled at the art of establishing brand names. Those names may have never been related to branding in the mainstream business media. There are executives who have played or are playing subtle but profound roles in building brands or are in the process of becoming one in the future.
In interim management, we do not exactly need those people. We need people who possess such skills and expertise in the branding of brands.
Modernisation
When we speak of modernisation, we are typically referring to traditional, brick and mortar retail businesses that are willing to embrace modernisation. Brick and mortar is still the dominant force in the world of retail and it will continue to be so. In fact, technology might actually be shifting back to promoting omnichannel and O2O and seeking to enhance the in-person customer experience and facilitate shopping via brick and mortar stores and outlets.
Hundreds of retail brands and businesses around the world are embracing modernisation in a phased manner. For example, in developing regions, the surge in customer preference for retail digital payments has been overwhelming. The concept of home delivery that gained popular acceptance with eCommerce is now being increasingly adopted by store-only retail businesses.
There are hundreds of ways to adopt modernisation for businesses that are still reliant on traditional practices and technologies. But every retail brand and business will have its own requirements. If this modernisation is seen as a one-time project, applying the concept of interim management could help traditional businesses make this much-needed leap forward.
Digital Transformation
Digital transformation is the concept of shifting from non-digital ways of doing business to the adoption of digital solutions. That definition makes it a wide-open case for interpretation but that would be rightly so. Digital transformation can touch any and all areas of doing business. Giving customers the ability to make purchases and track their orders online is an outcome of digital transformation. A retail customer being able to pay via digital banking in a mall or a departmental store emerges from digital transformation. Purchase reorder process can be initiated within the inventory management software as fallout of digital transformation. Employees working remotely are able to collaborate and do their jobs because of digital transformation. The extent of business digitisation varies from company to company. And there are associated challenges on a case to case basis.
Handling a project of implementing digital transformation presents another sound case for hiring a specialist interim executive. The ideal candidate for this role is someone with experience and expertise in both business and business-technology environments. Here, we are not talking about an executive with an understanding of business process software applications. Precisely, we are looking at CTO profiles. CTOs not only possess an in-depth understanding of the business-technology environment but are also well-versed with the business value chain and the functioning and intricacies of the industry in question.
Change Management
Both brick and mortar retail and eCommerce retail businesses are subject to making frequent and disruptive changes in their business and resultantly, in their organisation. Two big reasons for this are modernisation and digital transformation. These changes can have massive repercussions on business and the organisation behind it. Business processes and operations have to be redesigned. New SOPs have to be developed. The course of digital marketing might need a new direction. Customer support systems have to be made more extensive and reliable. These changes also have organisational implications. The design and structure of the organisation may demand adjustments. Many internal transfers have to be done to relocate human resources to meet the new business requirements. Employees may have to acquire new skills via training and development. Existing teams may have to be shuffled. There could be changes in the degree of centralisation (or decentralisation).
The concept of change management is no longer confined to just managing new learning and securing human cooperation. In today's businesses, change management deals with three dimensions – business, organisation, and human. Change management is now a sophisticated area of work calling professional expertise. As change management is a limited and specific mission, it does not make sense to have a full-time board-level or senior executive for this purpose. And interim management fits in here as an ideal strategy.
SOP Implementation
With SOP implementation, business processes and operations are executed in a planned and systematic approach. This can give a very different experience from an undefined working environment. With SOPs, there will be established procedures to be followed. There will be task triggers and deadlines for each operational activity. There has to be strict adherence to the established operational standards. Critical aspects of duties and responsibilities cannot be shared even within a department. Change management initiatives are required to get away with such 'alien' feelings.
New ways of working for employees will call for new skills. Sometimes skills may even become redundant. SOP training modules will have to be designed for employees. The implementation phase has to be planned and executed in a systematic manner.
SOP development and implementation demand special expertise and experience. From planning to implementation, the required skills may not be internally available. And SOP implementation is a one-time project without discounting the need for periodical and need-based improvisations. An interim executive with expertise and experience in SOP development and implementation fits into these requirements.
How YRC can help
With over 12 years of experience, we are a retail and eCommerce business consulting firm with a dedicated HR solutions wing focused on executive search and talent acquisition services and solutions. We have a service presence in more than 20 verticals and served over 500 clients.
As an internationally growing brand, we adhere to the best practices and standards in our service design and delivery. Our team comprises professionals with relevant experience and project exposure. With improvised organisational design and the adoption of digital transformation, we function and serve remotely to clients from almost any part of the world. Despite the geographical barriers, we believe in working in close coordination with our clients via our agile reporting and feedback mechanism.
Interim Executive Search
In executive search for interim management, we help clients find and hire the most suitable candidate for their unique business goals. Our role is to search for the most suitable candidates, communicate with them, understand their expertise and career aspirations, convey clients' requirements, and if the mutual expectations match, we introduce them to clients for further evaluation. Before that, our experts work closely with clients' representatives to thoroughly understand their unique business requirements for interim management. Various interim positions that we often find in demand are:
Interim Managing director
Interim HR director
Interim HR manager
Interim project manager
Interim marketing manager
Interim sales manager
Interim operations manager
Interim supply chain manager
Interim IT manager
We engage experienced talent acquisition specialists in carrying out the hiring activities. The due standards of professional ethics and decorum are strictly maintained in trying to reach out to the candidates and communicating with them. Our assessment criteria cover proven expertise and relevant project exposure along with qualifications, experience, personality traits, and shared values. The final decision on the selection or rejection of a candidate will be that of the client.
Talent Acquisition (Interim Team)
The role of an interim executive hired could vary from business to business. The requirements of the mission affect the support team that will be required by the interim executive. For example, if interim management is sought for adopting digital transformation, the interim executive will also need a support and execution team to execute the plans and strategies. An executive alone cannot accomplish such a mammoth mission. And employees with the special skill sets to work for an interim mission may not be already available within the organisation. Upon successful accomplishment of the mission, the company may retain the team or a few members of this interim team as permanent employees. By retaining the original implementation team, companies benefit in terms of sustaining the success of the mission.
We provide talent acquisition services for all roles and positions required for interim management in retail and eCommerce. We have consulted numerous retail and eCommerce clients across different verticals for their unique business and hiring requirements. Our wide range of services provides us the understanding of the job requirements required for various functions, processes and operations involved in retail and eCommerce enterprises including family-run businesses. The service objective is to ensure that the required team is available to accomplish the objectives of interim management. This team will be on the payroll of the client.
Get Advice for Interim Management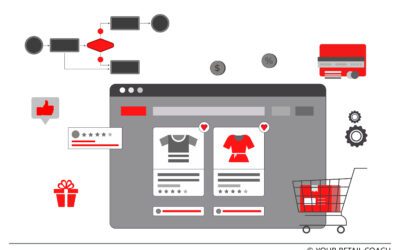 Fashion, ECommerce, and SOPs went to a bar……. If you are planning to start an online fashion business, you must be planning for a lot of things - business modelling, development of the business plan, technology, manpower, suppliers, etc. And if you have not already,...
read more