What is B2B eCommerce?
B2B is a business transaction model where trading or commerce takes place between two business entities. If such buying and selling take place using the internet, it qualifies to be called B2B eCommerce. For example, a manufacturer selling goods to a distributor (both business entities) qualifies as B2B. When these two business entities conduct the buying and selling over the internet, it qualifies as B2B eCommerce. When we say buying and selling, it means the entire transaction from ordering to delivery and payment.
Edge of eCommerce
According to a report, the global B2B eCommerce market stood at USD 12.2 trillion in 2019. Amazon Business and Alibaba are two prominent B2B eCommerce examples.
B2B businesses can significantly increase their reach to cater to new market locations and penetrate deeper into the supply chain or even enter new industries and thus be able to create more business and revenue. In the case of remote trading, transactional transparency between two trading businesses also becomes necessary and eCommerce takes care of that. Businesses will be able to better coordinate with their suppliers with online transactions. Data generated in the course of business could be used in data analytics for informed decision-making and strategy building.
Challenges in B2B eCommerce
Taking B2B the eCommerce route immediately elevates businesses to the world of online standards and competitiveness. They need to build the right strategies and roadmap. Identifying and embracing the right eCommerce tools and technologies becomes an imminent challenge on the judgement day. Once the platform is set, the next stage is branding and positioning in the world of B2B eCommerce. Coming up with a balanced digital marketing strategy could entail months of trial and error experiments. The right B2B eCommerce consulting can help businesses save on time and implement expert B2B eCommerce solutions.
Planning for B2B eCommerce

Market Analysis



A market analysis report presents the attractiveness and conduciveness of a market for business with a holistic approach. If a market does not show promise, it just does not; no one can make it good if it is not good for any particular business. And if it does; a market analysis report can tell us how it is so. A good market analysis should at least cover the following:
Industry performance and trends
Market size and the demand estimates
Market trends
Availability of suppliers and distributors
Logistical ease
Demographics and customer profiling
Competitors and intensity of competition, the threat of new entrants
Substitute products, emerging products
Market-entry and exit barriers
Economic, legal and regulatory, political, social, technological, ecological factors
Bargaining edge

Business Model & Business Plan



A business model defines how a company is going to generate revenue. Here it is not about the numbers but the overall idea of how a company is intending to generate revenue. A business plan is the business model in action. In other words, how the intended offering will be created and delivered to the market and customers.
This will include considering regulatory permissions and compliances for doing business, laying out the logistical, supply chain and distribution network plan from source to destination and vice-versa, human resource management, marketing strategy, office and administration, financial planning (capital requirements, profitability, break-even, etc.), technology and technology partners, etc.
        Organogram

Organogram is nothing but an organization chart depicting the organizational structure. It reflects the hierarchy of positions and form(s) of departmentation in a business enterprise. It is meant to cognize the flow of authority and command in an organization across functions and departments or business units.
For a B2B eCommerce business, having an organization structure is as important as it is for any other type of business for the same reasons. Having an organization structure also helps in other internal activities like reporting, approvals, escalations, hiring, accountability, communication, etc.
         SOPs

It is only when the duties and responsibilities are crystal clear to all of your employees in all the departments will they be able to carry out what they are needed to do. Now, how to achieve such clarity for all? The answer is SOP. It is the operational roadmap.
SOP defines the step-by-step approach to carry out a particular task or operation. SOPs need to be planned and documented. It removes subjectivity and doubt. It also makes supervision, monitoring and improvisations easier. There should be SOPs for every department like finance, HR, store operations, merchandising, purchase, inventory, etc.
After you have drafted the SOPs for all the eCommerce business operations, the next crucial step is its integration with the business IT systems in place. This allows the digitization of business processes facilitating all the processes and process owners to carry out their respective SOPs or the duties and responsibilities.
        Customer Experience (CX)

Delivering a superior customer experience has become one of the effective strategies for eCommerce businesses to differentiate their brand in the face of competition.  For B2B eCommerce businesses, the factor of customer experience shifts to a different level in terms of required understanding and insights as compared to B2C.
The stakes are high in B2B. Professionalism and commitment play a make or break role here. Add transactional transparency, personalization, convenience, and competitiveness and we get a more complex equation for delivering superior customer experience in B2B eCommerce.
        Warehouse & Logistics Planning


B2B warehouse and logistics planning is different from its B2C counterpart. The former entails bulk order quantities (EOQ-oriented), high AOV (average order value), advanced quality checks, paperwork and formalities, etc. which increases the duration of completing a transaction or fulfilling an order.
This means higher carrying costs for businesses and advanced warehousing solutions. It directly affects profitability.
Storage, handling, and logistical requirements involved come in varying levels of sophistication depending on the nature of the product. If outsourced, these need to be strongly monitored and assigned to credible partners.
        Robust IT infrastructure

The moment you take your B2B business online, you can no longer remain averse to relevant and updated IT systems and technologies that could facilitate your business to rise to the industry standards.
Multiple business processes and operations will have to run in a synchronized manner. A strong IT infrastructure to support all the business processes becomes necessary. It will also lend you the element of transactional transparency which is one of the core essences of eCommerce business.
The leverage provided by business software applications can significantly trim operational costs, especially in the long-run and also leading to automation, more accuracy of the information, and speedy decision-making.
        Process Automation



Process automation is an advanced extension of what IT systems can do for your B2B eCommerce business. It speeds up your internal processes and operations and the benefits of which could be extended to your clients. Such automation could be in the form of use of Artificial intelligence (AI), Machine Learning (ML), Internet of things (IoT), ERPs, chatbots, packaging machines, handling equipment, scanners, etc.
Automation in business processes helps in eliminating human errors and can also make the processes more effective and efficient. With automation technologies, valuable man-hours can be saved and be used in other critical areas of business.
        Digital Marketing strategy



Is digital marketing relevant for B2B eCommerce? Will your target audience take it seriously? The answer is that via digital marketing you are only reaching out to your target audience. Within the confines of digital marketing, the competition is for visibility, outreach, engagement and conversion on search engines, social media platforms, radio, television, websites, smartphone applications, etc.
How effective you are at understanding your clients' requirements will determine the effectiveness of your digital marketing strategy whether it is via search engines or social media or any other channel.
However, the presence of digital marketing does not mean the absence of conventional marketing. You should still reach out to your prospective customers via old-school mediums like advertising in the relevant newspapers, hoardings, electronic billboards, etc. At the end of the day, both physical and digital advertising are touchpoints and an omnichannel approach needs to be maintained.
        Critical Pathway



A lot of tasks and activities go into taking your B2B business online. Without a planned roadmap or a systematic approach, managing this transformation can go haywire.
A solution to this is the Critical Path Method (CPM). The essence of CPM is to identify that sequence of tasks following which a project could be completed in its maximum required time. This is also called the critical path. Three important underlying considerations in CPM are that tasks can be interdependent, each task involves different time for completion, and tasks can also be executed simultaneously.
It helps businesses plan and manages complex and time-bound projects, processes, and operations. It also helps managers focus on the critical path and keep a tab on the overall operational progress.
        Launch Strategy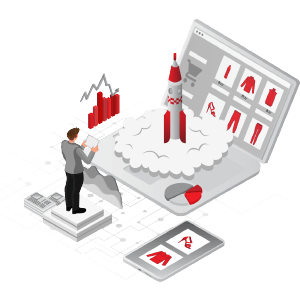 This is where the reverse countdown is set for the take-off and the time comes to take your B2B eCommerce platform online.  It is much more than ribbon-cutting. The launch program needs a bit of planning and marketing efforts.
The first impression should be lasting and to make sure it happens, there should be a trial run of the website (preceded by beta testing), the onset of digital marketing campaigns, presentations and webinars scheduled, etc.
Benefits of Standard Operating Procedures (SOPs)
Get Advice for B2B eCommerce
Landscape of Demand for Electronics Products Electronic devices and equipment like smartphones, laptops or electrical home appliances like microwaves and refrigerators are no longer the true reflectors of urbanisation. In today's world, electronic products can be...
read more