Standard Operating Procedures (SOP) Manual for Purchase Department
Purchase Department SOPs
The role of a purchase department is to manage the procurement of the materials required for business operations or production from vendors and suppliers. However, such a narrowed-down description hardly reflects the complexities of managing the purchase function of a company. Behind ensuring a steady flow of materials, a purchase department needs to run several processes flawlessly. If these processes are faulty it could lead to many undesirable circumstances like the selection of ineligible suppliers, misunderstandings about expected results, over-purchase or under purchasing, failing to order on time, etc.
From selecting the right suppliers to managing returns, every key activity of a purchase department can be made process-driven with SOPs.
Vendor Shortlisting and Selection
'Who is eligible to supply' is the question we answer in vendor selection. There should always be a planned and systematic process for shortlisting and selecting vendors and suppliers. For micro and small businesses, even a checklist can fulfil the same purpose.
The vendor shortlisting process can be mapped in the form of SOPs. There could be multiple procedures involved but the end result is to have on-board an eligible vendor.
Different businesses will have different strategic requirements in terms of past experiences of the vendors, quality of materials, quantity of supply, transit time, logistical priorities, regulatory factors, pricing and financial terms, and so on. These considerations need to find a place in the vendor selection process.  Secondly, this process needs to be carried out in a phased and systematic manner. For example, the company will have to first place advertisements inviting interested vendors. Then, the vendors who showed an interest may have to submit their offers. These applications are then required to be evaluated as per established criteria. And the process shall continue till a vendor is finalized.
These SOPs shall also serve as a working map for the employees of the company who shall be involved in the process. Once the vendor shortlisting SOPs are defined, there will hardly be any scope for misjudgements or favouritism.
New Supplier Onboarding Process
The process of on-boarding a new supplier entails completing the documentation and regulatory formalities and acquainting the supplier about the related policies of the company and chalking out a detailed operational roadmap. Different companies may have different approaches to how they carry out this onboarding process. Bigger enterprises have lengthy procedures running into days or even weeks.
Having SOPs can simplify a complex and lengthy onboarding process. A well-planned, systematic, and process-oriented approach will ensure that all the required areas of work are duly undertaken and finished on time. These areas of work could be documentation formalities, supplier details integration with the company's IT systems, fulfilling applicable regulatory compliances, meetings between company officials and new suppliers etc.
Procurement Process
Procurement is probably the heart of a purchase department which involves the considerations and permissions involved in a company before making a purchase. This is where requisitions surface, approvals do the rounds, and procurement orders are placed.
To place a procurement order, a purchase department needs to observe certain rules. It cannot place an order just because there is a requisition from another department or division. There are rules here to ensure that purchases to be made are justified, are controlled, and are within the confines of operational planning.
There will be approvals and clearances involved from concerned authorities. There needs to be transparency in how a company is making its purchases. Even the private sector is not free from corrupt practices. It is strongly advisable to have procurement SOPs or purchase SOPs to define this process and how it should be carried out. This can serve as a manual for the procurement of goods. Having a purchasing policy manual, also expressed in SOP format, will make it easier for employees to proceed systematically following the rules.
Reorder Decisions (ROL Management)
Managing the required inventory levels, which can also be dynamic, is a critical job of a purchase department. This stresses on how decisions are made on reordering and ensuring that adequate stock levels are always maintained and business operations are not affected. There are three basic questions which a purchase department needs to answer on a routine basis.
What to order?

When to order?

How much to order?
Wrong decisions here could lead to operations coming to a halt when there is no or insufficient inventory left affecting production, operations, and sales.
SOPs can play a saviour here. If the specific parameters related to reorder levels, reorder quantities, and reorder items are defined in the SOPs then this decision-making will become easier and more accurate.
The direct impact of prudent reordering per SOPs is on the liquidity and the bottom line (profit). With optimized purchasing via effective ROL management, higher profits will be recorded even with the same level of sales.
Logistics Management
Logistics is that part of the supply chain management where the physical movement or transportation of materials takes place. It can refer to movement of goods from supplier to company, supplier to factory, supplier to the warehouse, company to the customer, one warehouse to another, and so on. Logistics can be of five types or stages of logistics:
Procurement Logistics

Production Logistics

Sales Logistics

Recovery Logistics

Recycling Logistics
The logistical activities are carried out by a company's logistics team or hired logistic partners. Transportation can take place between states or even countries. The geographical spread of the supply chain network and the number of intermediaries involved defines the complexity of the logistics activities of a company.
At every stage of logistics, a company needs to ensure several aspects concerning the materials being received, processed, and forwarded (next stage).
Right source

Right place

Right time

Right materials

Right quantity

Right quality and condition

Right documentation, system entries

Right inventory/storage

Processing and dispatching

Right destination
These parameters need to be incorporated into the working mechanism of the team involved at every stage. And it could be done with SOPs.
Purchase Return Process
Purchase returns are undesirable but with agreed terms of purchase and process being followed, it should be a smooth operation for the parties involved. Following the due process is important here on several grounds. For example, the purchase return decision must also clearly convey why materials are being returned. And this information, in case of defects, will be provided by the QC team. Purchase return could also take place if consignment arrives beyond the acceptable time frame. All the conditions and procedures of purchase return can be expressed and mapped with SOPs making it easier for a purchase department to make the functional decisions.
YRC Methodology
With SOP design as one of our flagship services, our experience tells us to make procedures look simpler and easier in practice and implementation.
We also emphasise that if businesses have to become truly process-oriented in a competitive sense they must not only incorporate SOPs but also ride on digital processes.  We go beyond designing SOPs on pen and paper and seek to achieve SOP-ERP integration.
Easy-to-use Purchase SOP templates (SOPs for Purchase Department) shall be defined to ensure that being process-driven is not an uphill task for the purchase department of any business enterprise.
Benefits of Standard Operating Procedures (SOPs)
Get Advice for Purchase Department SOPs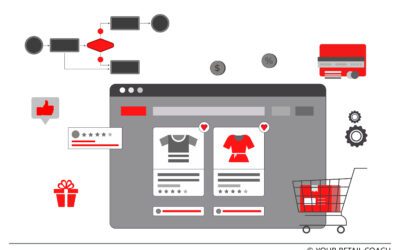 Fashion, ECommerce, and SOPs went to a bar……. If you are planning to start an online fashion business, you must be planning for a lot of things - business modelling, development of the business plan, technology, manpower, suppliers, etc. And if you have not already,...
read more