SOPs for Customer Service
Customer service is an essential component of an organization, rather than treating it as a cost centre, it must be viewed as a competitive differentiator for revenue retention and generation. This only happens when a company starts seeing the true role of customer service and the impact it has on financial performance.
This could be the reality only if the company puts in place systems that provide smooth functioning of customer service as a well-defined mechanism. This is where the Standard Operating Procedures (SOPs) come into the picture, SOPs here can be defined as detailed documents compiled allowing their employees to effectively handle established processes and respond appropriately to a variety of possible scenarios.
Need for SOPs in Customer Service
Today's customers expect to receive high-quality service that is efficient, effective and consistent on all occasions. Studies show that 81% (reference 1) of the customers expect the same level of service each time they engage with the company. And the same study indicates that 75% (reference 2) of customers anticipate consistent experiences from the company, whether it is a website, social media, mobile or in-person.
To deal with such a high degree of expectations from customers' require companies to incorporate well-structured and easily accessible standard operating procedures (SOPs). It will enable customer support agents to effectively handle each interaction on all existing support channels with a steady level of consistency. Moreover, SOPs become critical at junctures where customer service issues are requiring non-standard solutions.
Challenges Associated with Customer Service Processes
It is estimated that 90% (reference 3) of Americans factor-in customer service as a parameter in selecting a product or service. This is a trend that is gaining momentum around the world and businesses need to be prepared to offer good customer service to enable the customer to succeed for the overall good of the business. Apart from making customer service a regular feature, companies must also be aware of the challenges associated with different processes involved:
Phone Calls:
This is one of the time-tested methods for offering customer support but it comes with a fair share of challenges that require attention, these are:
Not Having an Answer: This can happen when the agent is not conversant with the problem or maybe coming across one for the first time.
Dealing with Angry Customers: It is a common occurrence for agents to encounter angry customers and at times it becomes increasingly difficult to address their concerns because of their callous attitude and the inability to listen.
Serving Multiple Customers: Every customer is a priority, but when you get to handle many of them at the same time, it can create chaos and confusion.
An Outage or Similar Occurrence: It occurs when a major event unfolds at a company affecting customers and agents remain unaware of how to handle the situation.
Levelling up to Customer Expectations: Every company seeks to offer unmatched customer service meeting expectations but very few companies can do so.
Email Correspondence:
Although it is a relatively old medium of communication, it is still used for customer service and is not without room for improvement, these include:
Slow response time: Email can be quick in reaching the destination but it is the slow response time associated with most emails that is a turn-off.
Gaps in Communication: Since email lacks the capability of sending non-verbal signals, the message can be misinterpreted by the receiver.
Text Heavy Messages: Email can become futile and even counterproductive if the message they carry is far too long and could be completely ignored by the receiver.
Information Overload: Emails can easily pile-up in the agent's in-box without a system in place to manage it. This can be the cause of many unhappy customers.
Live Chats:
This has become one of those features on a website that has become one of the core essentials when it comes to customer services. Sometimes implementing chatbots may not be suitable with complicated products & services, wherein human intervention shall stay relevant. let's briefly look at known challenges:
Longer Conversations: At times, the chat conversations can take longer than usual if the customer isn't easily satisfied with the solutions provided or brings up more concerns.
Response Time: Customer expects to be served faster on live chat and a longer wait for a response can really jeopardize the delicate relationship with the customer.
Lack of Training: Poor response to customer queries from untrained staff can cause annoyance and there are possible chances of a customer walking away.
Instant Gratification: At times the customer service team may not be in the know about certain answers put forward by the customer, finding the right answers quickly must be seen as a priority.
Establishing SOPs as Solutions to Challenges
In many of the cases mentioned above, the inability to perform a function comes from a lack of defined procedures that support the customer service agents during their work. With documented SOPs agents have a fallback plan for unfamiliar situations. Here we list out how SOPs streamline customer service as an essential business function:
Phone Calls
Established process of Escalation: A quick check on SOPs in unfamiliar situations can offer the much-needed help on whom to approach and the process of escalating the issue to someone more knowledgeable on the situation. This can save the agent from resorting to ambiguous behaviour that can further annoy the customer.
Negotiating Tough Situations: A customer service agent does not have the option of avoiding an irate customer. Hence an established SOP can give insights into dealing with an angry customer to bring him/ her to the point where they start listening to what the company can offer. All agents do not come with a great presence of mind and a written document can serve better in situations where emotions are running high.
Designed to Handle Contingencies: An SOP is written to handle the most extreme situations like an outage of service. In such cases when there is chaos all around and everybody is doing fire-fighting. A documented procedure can come in handy to offer an established course of action to communicate the most vital messages that will offer solace to the customer. An SOP can ensure uniformity in action across the board among all customer agents associated with the situation.
Going Beyond Expectations: A company expects all customers to have a pleasant experience each time a customer engages with them. Such expectations can be fulfilled by standardizing and formalizing actions through an SOP. A company can offer delightful service to the customer every time, making it a reliable service provider. Over time customers would be pleasantly surprised by the level of consistency in the service.
Email
Improving Response Times: A late response is as good as a 'no' response. This makes it essential for companies to have predefined response time based on criticality. Establishing such a system can be done through SOPs where the team members can be trained to respond in a timely manner. Once 'criticality' gets defined and documented – customers would start receiving calibrated responses to their emails.
Element of Empathy: As we all know, there is always a certain level of ambiguity in all written messages. This can be overcome through documented procedures where a volatile situation can be diffused by offering a solution with an element of empathy. This may not be possible in all situations but agents can be trained to identify such situations where nuanced messaging is necessary.  SOPs can be of vital help and it can be instilled as normal behaviour to check-back as a reference tool in tough situations.
System of Email Management: All agents must be familiar with some form of email management but these do not work in the long term as they look good only on paper. However, well established SOPs can offer practical and implementable procedures that can refine email management. It can even offer meaningful pointers concerning email etiquettes and other useful tips that can enhance the correspondence.
Live Chats
Process of Delegation: There would be cases when the conversations can prolong without any solutions in sight. But the agent cannot leave the conversation mid-way. Such situations require agents to have a fair number of options wherein they can delegate the responsibility of solving the query to different channel altogether. Such delegation must be pre-defined, documented with the option of escalation through SOPs where the agent takes the call and delegates responsibility appropriately.
Familiarizing Agents: An untrained staff responding to customer queries on Live chat can be a recipe for disaster. This calls for familiarizing the new agents on jargons, terminologies and stipulated course of action. However, this would require face-to-face training that can involve devoting precious time. The prudent course of action is to involve SOPs that can cut-down on class-room training allowing the agents to learn faster.
Other Processes in Customer Support and their Challenges
All the processes mentioned above tend to be the main channels to address customer concerns. However, there can be other processes that can help companies equally in getting more customers and pacify dissatisfied customers. Let's take a look at them:
Online Reviews: The majority of purchases today are made after looking at online reviews posted on third-party sites and even on Google. Customers generally tend to go by independent platforms like Google and Amazon instead of reviews posted on the company website. Positive reviews on these sites can augment the company's reputation.  But, it is the negative reviews that can hurt the company in the long run.
Online Reputation Management (ORM): Companies tend to thrive on conversations sparked by people's interest in the brand. This tends to develop into a narrative associated with the company. A positive narrative helps the company, while a negative narrative can significantly impact the brand image. A company must be proactive in controlling the narrative on social media platforms and associated channels with urgency to minimize the impact of the emerging narrative. This is also known as brand reputation monitoring.
Customer Relationship Management (CRM): If you are using a CRM tool, it can be a channel for customer service, giving you insights into customer behaviour and dealing with them on an appropriate basis. It is easy to follow-up with customers' who are happy. But it can be challenging to approach the ones who are dissatisfied and have to be convinced into reconsidering your service.
SOP as a Solution to Emerging Challenges
Online Reviews: Every company today understands the value of customer reviews and wants to ensure they receive more of them to showcase social proof. Unless a company puts in a standardized system in place it can be rather difficult. Establishing an SOP defining 'what is to be done' and 'when' can streamline the entire process leaving the guesswork out of the equation. Giving written documentation to agents on responding to positive and negative reviews can be done with a well-written SOP. It will allow agents to respond tactfully to not-so-kind reviews, establishing your reputation as a responsive company that listens.
Online Reputation Management: Once you establish an SOP, you can actually preempt any situation from 'snowballing' into something big. With established procedures, a company remains in better control of the situation with exact instructions to agents on the ground, who are dealing with the situation. The instructions or SOPs will contain how it seeks to project itself in a crisis and what stand it wishes to take on the emerging situation. Agents well-trained on SOPs will be equipped better to handle a crisis and can even accommodate additional ad-hoc instructions specific to the situation. Plus, an SOP can be instrumental in establishing an automated system which can offer a single-window mechanism for standardizing and digitizing feedback.
Customer Relationship Management (CRM): A CRM tool as the name suggests is ideal for nurturing business relationships with happy customers. However, there can be situations when not everything goes according to plan and the customer will be forced to voice his opinion about the service being offered. Such behaviour is uncommon but can be turned into an opportunity if documented SOPs are in place to persuade the customer to reconsider his decision. This can be a dicey situation and the SOP must be able to envision the sensitivities of the customer being dealt with. A good SOP at the minimum will ensure that the customer will not have a bad notion about the company.
Why – Your Retail Coach (YRC) is Better Placed at Conceiving SOPs?
Your Retail coach (YRC) comes with years of experience in creating SOPs for companies across verticals. And a company must understand why an SOP is critical to smooth functioning because on most occasions it is dealing with a recurring problem that can be remedied.
We have the in-house expertise for creating effective SOP for the customer service department that can reduce chaos and improve the time involved in critical tasks. Besides this, a good SOP can even persuade unhappy or sensitive customers to put behind an unfortunate incident and reconsider buying from your brand again.
On most occasions, it has been seen that SOPs are created on paper and forgotten. At YRC we make a concerted effort at making SOPs system integrated. It no longer remains a piece of paper floating around in the workplace. Rather it becomes an essential go-to document that gets integrated into IT systems in the workplace making it both visible and accessible to all stakeholders associated with customer service.
At YRC we are not only adept at customer service process and procedure, but also are equally proficient at customer service process flow chart, customer service process improvement, customer service process map and customer service process management. We are capable of offering these services together or as a single line item for businesses who are keen on making their customer service top notch in the  industry.
Benefits of Standard Operating Procedures (SOPs)
Get Advice for Customer Service SOPs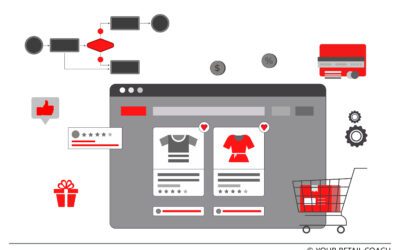 Fashion, ECommerce, and SOPs went to a bar……. If you are planning to start an online fashion business, you must be planning for a lot of things - business modelling, development of the business plan, technology, manpower, suppliers, etc. And if you have not already,...
read more