Retail SOPs
Standard Operating Procedures
Retail SOPs
Standard Operating Procedures
About SOP For Retail
Each organization comes with a unique management style. Retail outlets are no exception to the rule. This is why each retail outfit needs SOPs/ Standard Operating Procedures, across verticals, departments and team members in the long run to ensure retail business sustainability. From SOP for retail business to standard operating procedure for warehouse, store operations, ecommerce, supply chain management and logistics, end-to-end SOP frameworks can be the solution your business needs, in order to grow.
Why Opt SOP for Retail?
#1 Ensured Business Continuity
When it comes to retail outlets, sales or operational employees may be absent due to reasons. But this does not mean retail activities should come to a standstill. With the aid of SOP for retail operations, any employee can take over retail functions and finish pending, mission-critical tasks within the targeted time. If employees are not at work due to leave or other reasons, SOP for retail store management ensures the work never stops. By referring to the designated SOPs, employees can take over urgent tasks and perform these correctly. Retail Standard Operating Procedures manual explain the practice of every department at back office and retail store operations. SOPs are policies, standards, and procedures blueprint the organization requires for the management of the entire retail store.
With the help of SOPs, retailers can ensure efficiency in work and profit accumulation. Additionally, they can offer reliable and consistent products and services. There is reduction in error and a defined path is in place to solve issues among retail staff. SOP for store management also promotes a safe working environment. It protects employers in terms of hidden liabilities and offers focus for solving problems in retail store operations.
A standard operating procedure for a retail store further helps in auditing and inspection. But just as every retailer has its own distinct brand, every business requires its own SOPs. Developing a standard operating procedure for retail store management is essential for the growth and sustainability of the organization. Retail procedures need direction. Retail store operations can only progress flawlessly, when written policies and SOP procedures are in place.
#2 Application of Consistent Standards
Good SOP procedures and working instructions offer clarity in communication and application of consistent standards or practices, when it comes to retail standard operating procedures. Through consistency in standards, retail stores can save time and reduce errors. They can lower training costs, empower the workforce, ensure consistent results. Delegating work becomes easier and obstacles don't detract from quality goals. SOPs are critical for every aspect of retail store management. A warehouse SOP ensures product storage and distribution are taken care of. An operational SOP works to assure tasks performed on an everyday basis are smoothly managed. Every aspect of a SOP for retail can benefit your business in terms of ROI, profits, and unlimited growth opportunities.
#3 Establish Routines
When SOPs put together explain every aspect of store management in detail, it simplifies the functioning of the business. Staff can complete projects and tasks easily. A lot of micromanaging gets eliminated and questions are resolved. With a retail store SOP, employees will establish a sense of routine and work towards gaining expertise in key skills. This will assist in the overall performance appraisal of employees as well.
#4 Implementation of Quality Control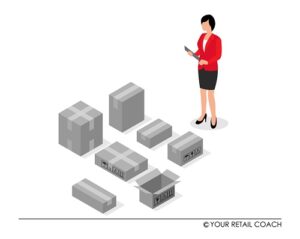 Writing standard operating procedures for retail can minimize errors in customer service or product defects, which directly impact business revenues. SOPs allow processes to be streamlined, so no questions exist about how the product should be sourced or sold, and how customer complaints should be tackled. SOPs further eliminate questions regarding what the customer can expect and establish consistency in business products or services. Consistency is the key to customer satisfaction. Sales Playbook is a tool for customer service & sales team which ensures service standards are maintained to achieve customer gratification.
#5 Better Growth Systems in Place
Solid SOPs with systems and processes outlined in ways that work ensure retail operations can be scaled and store reach can be expanded. Staff in chain stores or franchises can get a reference SOP to learn about how the retail business functions and how assigned job duties need to be performed. This streamlines training processes and ensures everyone is on the same page. It further cements the consistency of services and products.
#6 Better Performance Management
SOPs of all employee job duties make it easier to conduct performance management reviews. Job descriptions and KPIs (Key Performance Indicators) are critical for retail store SOPs. So you can use standard operating procedures to ascertain if employees are under-performing or simply not following instructions. This helps in the effective evaluation and comparison of retail staff by outlining what is in the SOP. Without a good SOP in place, it is impossible to understand whether retail staff are living up to their potential. Different employees can easily be compared and it becomes easier to see who is making the most mistakes.
#7 Eliminate Loss of Productivity
Through reduced downtime, via SOPs in place, a retail store can eliminate the loss of productivity. Employees can be managed more effectively to prevent deficits in customer service or product distribution in the retail store. SOP can ensure certain jobs don't require specialists and systems are not people-dependent. Procedure manuals and templates ensure that processes and systems are in place and work won't come to a grinding halt.
How YRC Can Boost Your Retail Business?
Business transformation consultant Your Retail Coach specializes in SOP for retail. SOPs for your retail business is an investment to ensure you have a productive business in place. Efficiency increases over time and business growth can be tapped in new and exciting ways.
YRC offers SOPs for every aspect of retail business i.e. departments across back-office to front office & omnichannel sales via online to offline mode. So, you can be more organised and effective over time. And so can your retail store business. With YRC's specialists and strategic SOP consultants on the job, your retail store can rest assured in the knowledge that their operating procedures, systems, and processes will face no hurdles. SOPs are at the root of an effective retail business.
For tapping all those growth opportunities and fulfilling the true potential of your retail business, contact YRC today and watch your retail store expand, scale and grow phenomenally.
Benefits of Standard Operating Procedures (SOPs)
Get Advice for Retail SOPs
Starting your retail pharmacy is a very exciting business venture as the healthcare sector is currently witnessing utmost growth. However, the pharmacy retail business can be very challenging and troublesome due to multiple reasons. There is an inherent risk and...
read more