What is Manufacturing to Retail
Manufacturing to retail is a revolutionary and innovative concept implemented to disrupt the entire manufacturing and retail sector. For decades, retailers and wholesalers were middlemen between consumers and manufacturers. The model would follow a routine whereby items were purchased in bulk from makers at set prices and sold to consumers at higher prices, often doubling or even trebling the output. These manufacturers to retailer to consumer examples abound. This business model is undergoing a change now, as new and innovative ways of getting products to the customer have emerged, because of supply chain consulting. Technologies and strategic knowledge are changing the way manufacturers approach the retail process, as retail strategy consulting gains ground. Wholesalers and distributors used to provide the infrastructure, space and manpower manufacturers needed to depend on. With the rise of new technologies, the internet and businesses leveraging the websites, this business model is rapidly evolving. Manufacturers are entering the retail process, selling directly to consumers.
About Omni-channel
In earlier business models, manufacturers earned fewer profits as direct sales were the only options. With the internet and technology offering a way to connect consumers directly with manufacturers, this is changing. Companies earlier sought wholesalers to be viewed as legitimate companies. But now, as customers seek to meet specific requirements, companies are selling services and products online, offering bespoke solutions that meet the needs of demanding clients. Whether it is a B2B or B2C company, a manufacturer now has the option to opt for direct retail channels. Customers and clients alike are end users who benefit from the manufacturing to the retail route taken.
Benefits of Manufacturing to Retail
There are a lot of benefits of taking the manufacturing to retail route for customers and corporate B2B/B2C brands alike. Here are the key advantages of going for this innovative retail strategy:
Time to Market is Reduced
Time to market significantly decreases. Rather than a long traditional retail sales cycle requiring locked in product development in advance of orders and deliveries, individual brands can prototype, test and move to market fast. This holds immense value as agility is the competitive differentiator I modern industries.
Complete Brand Control
Additionally, there is complete brand control. Brand images are not subjected to dilution or distortion by third parties. Consumers seek powerful brands they can interact with directly. Customers or clients in the corporate ecosystem thrive on brands that build the right perception.
Price Control
Along with control over brand perception, manufacturers can control the prices as well. Directly routing the products or services to end users leads to direct communication with customers or clients regarding price points. Selling directly allows the accumulation of a data mine. Better customer data leads to effective promotional strategies, more customized products, higher sales, and better brand associations.
Assessing and Mitigation of Risks
Along with the emergence of e-commerce as a catalyst for accelerating strategic change, manufacturing to retail also leads to effective risk mitigation associated with direct selling to customers.
Transparency is the reason why manufacturing to retail is the right path to take, whether you're an established brand or one just starting out. This also makes it easy to solve the issue of customer satisfaction. By directly interacting with the end user, this offers incredible value for the manufacturer or company, when it comes to providing exclusive products to retail wholesale channels.
Manufacturers selling directly need to have an understanding of customer expectations and retail sales. Manufacturers that step into the direct market need to work on their brand. Shipping and customer infrastructure must be in place as well. Incorporating features such as chat and click enable corporate brands to connect and listen as well as interact with customers and clients.
Better Margins
Manufacturing to retail offers real-time visibility as one comes closer to consumers. Along with quantitative demand for products, there is a greater insight into the quality of customer interactions. By interacting with customers and engaging in communication, it becomes clear what the customer wants. Products or services by B2B or B2C companies can be tailored to the client's needs, therefore.
Manufacturing to retail offers total control over the business, right from the beginning of the supply chain to the consumer. Unique comprehension of customer requirements emerges from taking this retail route. The manufacturing to retail process highlights how to go beyond focus groups and market research. Direct contact with the customer through every stage of sales ensures your customers are in direct communication with you.
Faster Product Launches
A reason why legacy brands need to embrace this innovation is the faster speed to market and more rapid product launches.
With manufacturing to retail, corporate brands can even mitigate risk by launching innovative products on smaller scales. Manufacturers develop specific products, test it with demographics and then achieve feedback. This enables firms to understand how to make the required adjustments.
Increased Control over Market Reputation
In traditional manufacturer-retailer-distributor cycles, manufacturers can only control their marketing and packaging. Once the product hits the shelves, it's all about retail prowess.
Though large brands can advertise, the sales process rests in the hands of the retailer who may offer other alternative brands and detract from customer loyalty. In today's hyper-competitive e-commerce world, customers need a quality product and a perfect experience.
Controlling the customer experience from start to finish is more appealing than trusting retail partners and distributors. With manufacturing to retail, brands are able to control the experience right from the point the customer makes the engagement to the point where the product is purchased.
Omnichannel Commerce
Another strength of manufacturing to retail is the reliance on omnichannel platforms. This assures customers experience an integrated retail session, where they can browse across various channels, choose a wide range of delivery options and return in the ways irrespective of which channel brought the products in.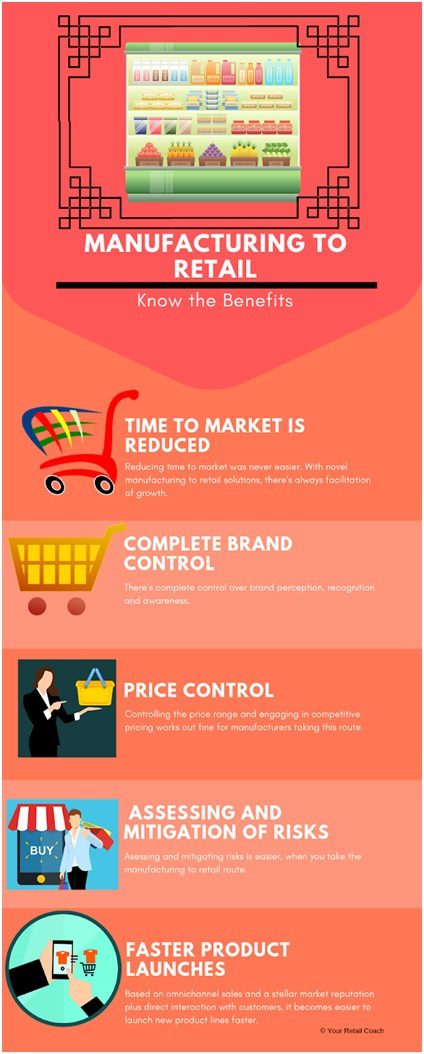 Reaching End Users
Manufacturing to retail offers a new way for manufacturers to reach end users, whether the route is taken by e-commerce, brick, and mortar or click and mortar platforms. Once your brand is ready to grow through manufacturing to retail, you can pick or choose the channels. For instance, B2C or B2B websites offer a unique representation of your brand. Customers or clients can interact directly with this brand.
Long established retail or distributor networks cannot match the efficacy and ease with which manufacturers can reach customers or end users directly.
Benefits for Dealers and Distributors
One of the factors deterring legacy brands taking manufacturing to the retail route is the impact on current retail relations. But the manufacturer versus the distributor vs the retailer comparison is not required, because this form of retail expansion is a win-win outcome for distributors and retail channels as well. A B2C or B2B company that has gained a foothold with retailers and secured shelf space which assures domination in the markets can easily establish distribution channel partnerships. There's no need for risking market positions or alienating retail partners.
But, thanks to franchises and retail distribution channels, the very opposite effect takes place. A Forrester Research study has confirmed over 54 percent of manufacturers selling directly to consumers have seen a growth via channel partners. Redirecting the end user to retail partners for order fulfillment ensures manufacturers don't lose out on profitable retail partnerships.
The research also revealed 50% of manufacturers indicated sales helped to improve brand awareness and boost sales and lead for channel partners. A further 14 percent of manufacturers reported manufacturing to retail strategy enabled easier testing of new, innovative products before these were pitched to the market.
Services Offered for
Manufacturing to Retailers:
Get Advice for Business Consulting
"Getting more organic traffic to your online retail store is tough. However, that doesn't mean it's impossible. From product descriptions, external links to blog posts and infographics, you have lots of opportunities to put your business on the map," – Neil Patel,...
read more